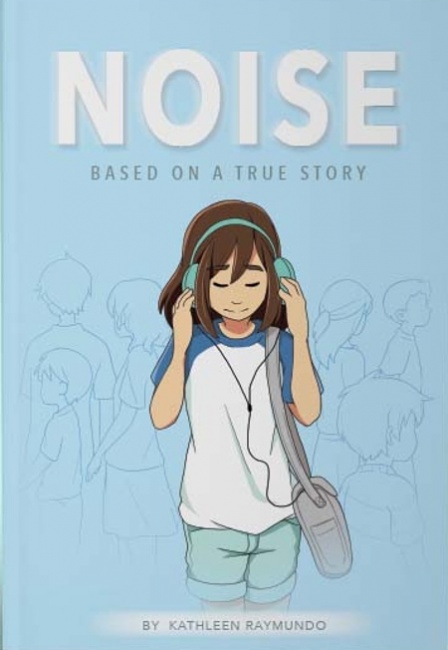 Noise TP
Publisher: Independently Published
Release Date: March 14, 2019
Price: $9.99
Creator: Kathleen Raymundo
Format: 28 pgs., Full-Color, 6"x9", Trade Paperback
ISBN: 978-1-7931-8953-0
Age Rating: 8-12 years
ICv2 Rating: 4 Stars out of 5
In contrast with its name,
Noise
is a slim, quiet volume. The cover is understated, with the central character literally fading away at the edges.
That's what Cathryn would like to do in real life. She slips on her headphones as soon as she gets on the school bus for her first day of seventh grade, blocking out the outside world. But an exuberant fourth-grader named Tyler keeps interrupting her reverie, asking to borrow this and that, until finally she snaps at him. Later, feeling guilty, she decides to make amends, and that's when she learns that Tyler's relentless cheerfulness is his way of dealing with a sad situation. The story ends with the two as fast friends.
The story is simple, and the art is simpler still, drawn in a manga-influenced style with simple lines and tones. There is no clutter or detail, not even a sink or stove in Cathryn's kitchen. Yet everything in the story rings true: We can see Cathryn getting more and more impatient, blowing up, and then feeling bad about it, a situation any child can relate to. Raymundo also uses a subtle visual cue to show how Cathryn changes over the course of the story: In the opening sequence, she hesitates while getting dressed, setting aside her new first-day-of-school outfit for one that's more familiar. In the final scene, she is sitting with her new friend and wearing her new outfit.
Noise
has a lot in common with popular middle-grade books such as Raina Telgemeier's
Smile
and Shannon Hale's
Real Friends,
but it is much, much shorter, and the art is simpler. At 26 pages for $9.99, this is a pricey little volume, but it has sold remarkably well, especially considering it is self-published (see "
How a College Student Placed Her Graphic Novel on an NPD BookScan Top 20 Graphic Novels Chart
"). Its size got it a lot of one-star reviews on Amazon, but those who could get past that found it a sweet and moving story. Being short and simple, it's probably most appropriate for the younger end of the middle-grade spectrum.
--Brigid Alverson