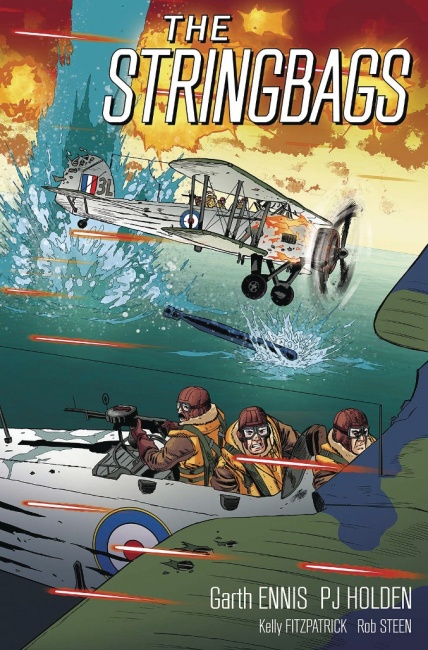 The Stringbags HC
Publisher: Dead Reckoning
Release Date: May 20, 2020
Price: $29.95
Creator(s): Garth Ennis (author); PJ Holden and Kelly Fitzpatrick (artists)
Format: 192 pgs., Full-Color, 7-1/4"x11", Hardcover
ISBN: 978-1-6824-7503-4
Age Rating: N/A
ICv2 Rating: 4.5 Stars out of 5
This may be the best war comic to come out in years, and one of the reasons for that is that Garth Ennis came up with a clever way to tell real parts of history with purely fictional characters, giving him the flexibility to include needed explanations. Thus, even though there was no one torpedo bomber crew at all three of the incidents in the book, his fictional crew are there for the air attack on the Italians at Taranto, the air battle dooming the Bismarck, and the air attacks on the German ships trying to get home from France in 1942.
The thing that creates the most drama in this unusual story is the type of aircraft involved. "Stringbags" was one of several derogatory names for the Swordfish planes. For reasons still unclear to anyone with sense, the British entered World War II with the Swordfish as their only carrier-based torpedo bomber, an awkward, obsolete biplane that could carry as many as three crew, fly slowly, defend itself poorly, and deliver a very limited payload of weaponry. That, combined with the lack of cooperation between the RAF and the British naval air command, led to some difficult times for the Swordfish fliers, and those are made clear in this story. This isn't a tale of heroes. It's a serious story about men who are just trying to survive, while doing damage to the enemy.
Ennis is great at doing stories that are grim and serious, and in this one the artists are an excellent match for the story. The story's only weakness is that, for no apparent reason, one of the main characters acts like an idiot a few too many times. Holden has been doing SF and war comics for a long time, and Kelly Fitzpatrick has been nominated for awards, deservedly so.
This book is aimed at adults, due to graphic violence, but some older teens would be okay with it, especially if they are interested in military history.
--Nick Smith: Library Technician, Community Services, for the Pasadena Public Library in California.