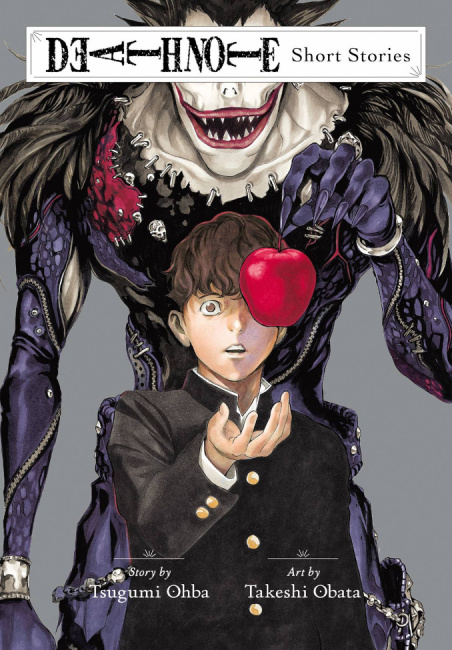 Death Note Short Stories TP
Publisher: VIZ Media
Release Date: May 11, 2022
Price: $14.99
Creator(s): Tsugumi Ohba (writer); Takeshi Obata (artist)
Format: 226 pgs., Black & White, 5.75" x 8.25", Trade Paperback
ISBN: 978-1-9747-3073-5
Age Rating: Teen+
ICv2 Rating: 4 Stars out of 5
Oddly, the popular
Death Note
manga series has been incomplete in its English translation for all these years. This volume of short manga stories was completed in 2003 but has just been translated into English for American
Death Note
fans to enjoy.
These stories are prequels and sequels to the original series, and they add a lot of details to the world of the Shinigami and to the way they relate to humanity so oddly. On the other hand, the stories do little to explain several other things, like their ongoing fascination with apples, which the Shinigami love so much that they're a valuable commodity in the land of Death.
The main point of these stories is to demonstrate the different ways in which other people could have interacted with the Death Note notebook, and this in turn shows that the original story was not inevitable but instead was the result of choices made by the characters. In a way, that makes the original story even grimmer.
The original creators did these stories, so the serious ones are very much in keeping with the original in terms of quality. The 4-panel comedy inserts could have been done without, but they help to break up the mood. Since not all of these stories are tragedies, though, that wasn't really needed.
Also, the fact that the Shinigami don't play fair, by human standards, was reinforced in one of the stories, which retroactively changes a couple of key rules after a clever human has figured out a completely new way to use the notebook. Even if the guy is not a nice person, it seems unreasonable to change the rules
after
giving the book to him to use.
Fans of the original series will love this, and readers who never read the original will find it baffling, so this really is intended for existing fans or anyone who wants to read the original series and
then
this book. The ongoing deaths are violent, but in this book they are not gruesome. Still best for teens and adults, though.
--
Nick Smith: Library Technician, Community Services, for the Pasadena Public Library in California.