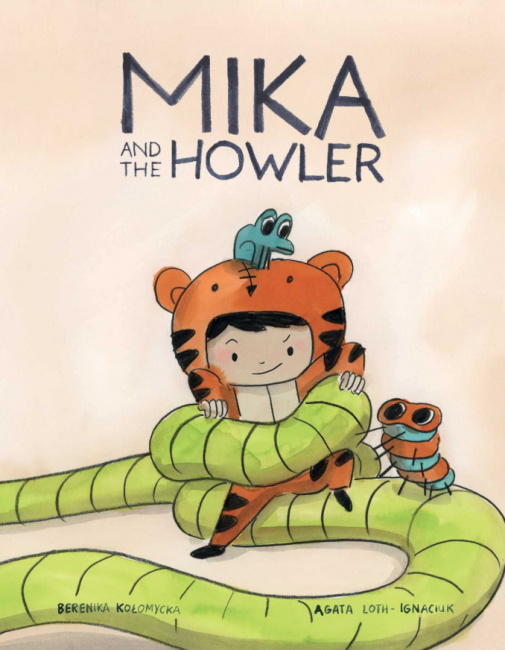 Mika and the Howler HC
Publisher: Oni-Lion Forge
Release Date: July 18, 2023
Price: $14.99
Creator(s): Agata Loki Ignaciuk (writer); Berenika Kolomycka (artist)
Format: 32 pgs., Full-Color, 7"x9", Hardcover
ISBN: 978-1-6371-5212-6
Age Rating: 3-6
ICv2 Rating: 4 Stars out of 5
This is a cute European-style graphic album, and for an American audience the very short page count may come across as a drawback for the price. In fact this book is designed to compete with the audience for graphic novels for very young children that only a few publishers have done well. Toon Books and Scholastic have done books for this audience, and it's good that Oni has brought this import to the American market. Think of it as a graphic novel version of a picture book, and it will make more sense.
Keep that in mind as you read the story, which makes sense in a "small child's view of the world" sense. The "growler" is clearly new to the house, and also an obvious threat once it endangers everything from dirt to socks. Even stuffed animals and small children might not be safe from its voracious hunger!
Battling such a dangerous beast is a story that could have been longer, but a long battle would not have been in keeping with the tone, which is for a quick story. Translated from the original Polish edition, this is the first book of what is apparently a series.
While the suggested audience is age 3-6, parents may find that kids at the younger end of this may not see the humor in some of the bits of the story. Some of the story may also be a hint that parents should show new things to their children before doing new and loud things with the new things. Otherwise, they could end up with a defeated "growler" and a lot of explanations to make. Still, this is a good story for parents to share with kids who are just starting to read, as there are few words and a lot of actions.
--
Nick Smith
Click here
for more ICv2 Kids Week articles on kids' comics and graphic novels!