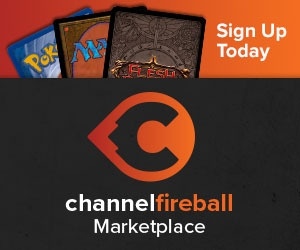 Sponsored
. ChannelFireball's upcoming marketplace will feature transparent flat fees, as well as a lower flat fee for sealed products.
"As a lifelong retail brand, we understand the retail world and the razor thin margins for some sealed boosters and booster boxes. Our Marketplace takes that into account, allowing retailers to list these popular items at a rate that is both appealing to customers and allows the store to generate a profit."
- Mashi Scanlan, CMO CFB Group
The fee for singles card sales sits at 8.95%, with a reduced rate of 2.95% for all Sealed Product.
"Transparency is very important to us - we know what it's like to get a sales report and not know what parts of what transactions went to fees. Our fee structure is flat, transparent and allows the stores to profit, not just the marketplace. We are putting the power back in the hands of stores when it comes to selling their products and transparent communication is the first step in that process."
- Mashi Scanlan, CMO CFB Group
Since announcing the CFB Group merger earlier this year, BinderPOS and ChannelFireball have been building a marketplace for collectible cards that is exclusive to registered businesses, and are doubling down on their "stores first" attitude.
"We know that stores are the lifeblood of this industry, and we want to connect customers with them through our platform to keep the games that we all know and love thriving."
- Mashi Scanlan, CMO CFB Group
An official launch date for the marketplace is expected within a month, but retailers looking for more information on the ChannelFireball Marketplace can sign up
here
.