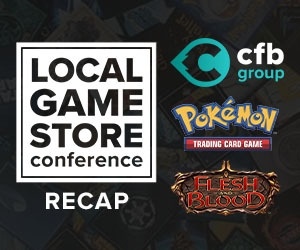 Sponsored
. Attendees of LGS Con II were inspired and educated with strategies and insight from all guest speakers at the event. The CFB Group digitally hosted their second Local Game Store Conference this past Saturday, May 22. With a panel of experts from the industry and an amazing turn out of attendees from around the globe, it goes without saying that the event was a success.
President of The CFB Group, Jon Saso, kicked off this weekend's event with a
keynote
with CMO, Mashi Scanlan. The two shared their excitement to be connecting many retailers and experts in the industry. The team also shared more behind the announcement of the ChannelFireball Marketplace delay.
For the first guest speaker of the day, attendees learned from expert marketer, Denis Stranjak of The CFB Group.
His presentation
educated store owners on what should be included in their stores' marketing plan, as well as the best ways to carry out these marketing plans.
Michael Waddell, founder of new popular game, MetaZoo spoke to his passion for the trading card industry and how it led him to create the game. He also
shared more with attendees
about his commitment for the future of MetaZoo being a community driven trading card game.
Following Michael were Stephanie Flores and Courtney Kim, who shared details of The Pokemon Company's new in store organized play program. Store owners were encouraged to sign up as an initiative to build and grow the
Pokemon
community with players of all skill levels.
Attendees saw how easy it can be to add comics to your inventory with Manage Comics' new Shopify integration.
Brian Garside's presentation
spoke to the overlap of consumers in the comic and TCG industries and highlighted how simple it can be for store owners to integrate comics into their sales.
Viewers got to pick the brain of James White from Legend Story Studios. In his
open forum Q&A,
James shared more about the future of FAB events and organized play, and how this correlates with the release cadence. He addressed the distribution concerns of many store owners, and gave insight on plans to combat these issues.
We could not be more thrilled with the turnout for LGS Con II and hope to carry this momentum with us for the Third Local Game Store Conference which will be held on September 25. Registration for LGS Con is open and can be completed
here
.