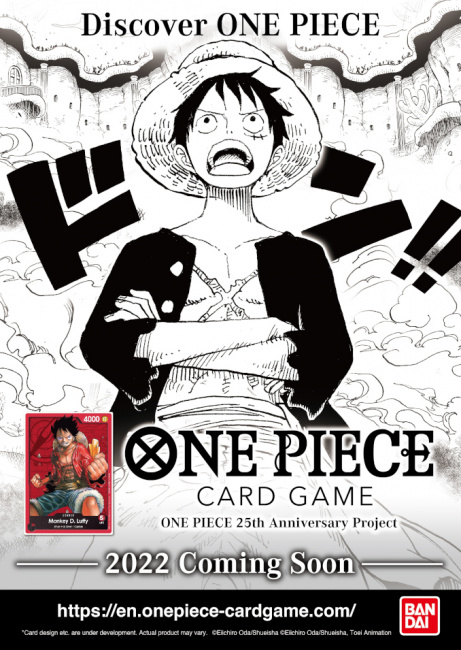 Sponsored
. To commemorate the 25th anniversary of the popular Japanese manga series
One Piece
from Weekly Shonen Jump, BANDAI will release the
One Piece Card Game
, a super exciting trading card game that allows players to immerse themselves in the world of
One Piece
.
A worldwide release of this title is scheduled to allow fans not only in Japan, but around the world to enjoy the
One Piece Card Game
.
Beginning with a July 2022 launch in Japan and some other Asian regions, additional launches are planned for North America, South America, Europe, Oceania, and mainland China.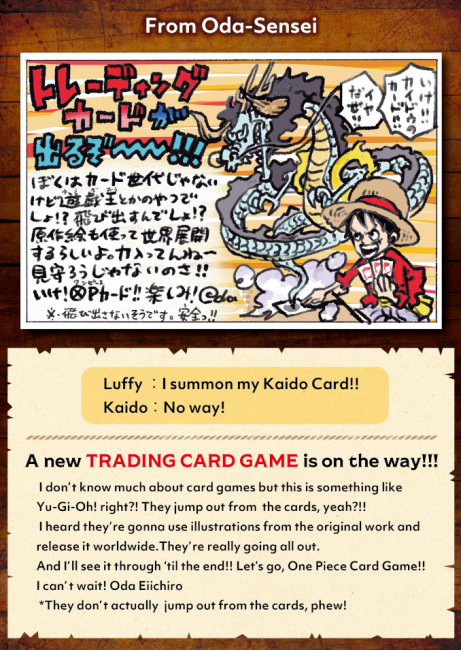 Product Overview
The
One Piece Card Game
is a unique trading card game developed by the Bandai Card Business Department that allows players to enjoy the world of
One Piece
, a manga series highly popular in Weekly Shonen Jump. The game includes illustrations from the original manga, anime illustrations, and many cards with new illustrations drawn by the illustrators.
Including interesting and truly fun aspects only
One Piece
can offer, such as cards to increase the cost and power of the cards during battles like the "Don!! Cards" with represents the "Don!!" sound effects that appears in various scenes throughout the original series.
Worldwide Release
The product will be released in Japan and some parts of Asia in July 2022, with plans to launch an English version in North America, South America, Europe, and Oceania areas later this year, as well as a simplified Chinese version in mainland China.
Tutorial App
A tutorial app that will make it easy for anyone to learn the game rules of the
One Piece Card Game
will be released in English this summer.
Allowing the players to understand the rules through the application, including how to use the cards and how to determine the winner.
Product Schedule
Four starter decks and one booster set featuring fan-favorite characters among a wide range of generations will be available in Japan from July. The four starter decks will be "Straw Hat Crew", "Worst Generation", "The Seven Warlords of the Sea", and "Animal Kingdom Pirates".
Every deck in this product features different card types, providing players a wide variety of play options.
The booster packs contain not only illustrations from the original manga but also diverse illustrations exclusive to this product, making it not only a fun trading card game but also a highly collectible must-have product.
Stay tuned for further news on the English version!