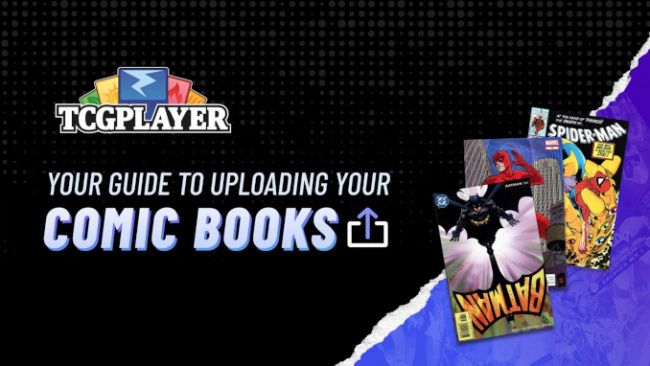 Sponsored
. As many of you may have heard, this is TCGplayer's first year as the
presenting sponsor
of
Free Comic Book Day
on May 6, 2023. To help ramp up sales and continue to grow the platform, we're launching a 7-day
Store Credit Promotion
, giving 10% back in store credit for every comic book purchase. Here is a guide to making the most of this promotion and beyond.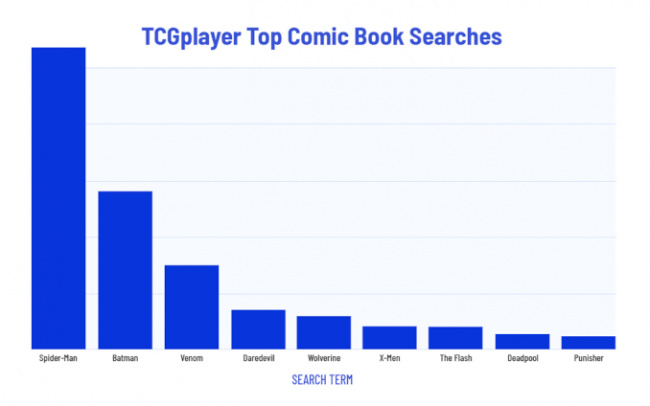 Titles to Prioritize
As most in the industry are aware, Spider-Man is, and has been, king in terms of sales and popularity. The TCGplayer Marketplace is no different: Spider-Man and related titles (such as
Venom
) are the leader in search results on the site by a large margin.
Spider-Man and all related titles are worth moving to the front of the line when deciding what to upload. With Marvel's commitment to Spider-Man as a key figure in the ongoing MCU, as well as the upcoming release of
Spider-Man: Across the Spider-Verse
, interest in the character remains consistent. Key issues throughout the
Amazing Spider-Man
1963 series remain some of the most sought after, while as recently as this year, Spider-Man continues Marvel's monthly releases.
Top Cover Artists
Demand for variant covers continues to remain high, presenting new ways to collect while generating interest in the hobby. Consider prioritizing issues featuring cover art from some of the more popular new and classic artists. Alex Ross's Marvel villain variant covers have generated a lot of interest, and the demand for all series featuring his art remains high. Artgerm, Peach Momoko and Jenny Frison covers remain popular. Event variants such as
Disney's 100
, which have been running through various Marvel titles, are very popular, especially if you are able to list the
black and white 1:100 variant
. If you are trying to list a specific variant and can't find it,
contact us
and we will either have the comic added to our catalog or help you locate it.
Pricing Your Comics
As most store owners know, pricing is incredibly important when it comes to generating sales. The TCGplayer Marketplace is applying the same incredible pricing tools we have for
Magic: The Gathering
to the comic book world, but while we continue to build out our tools, try to follow similar pricing strategies you would use in your own store to help maintain a healthy marketplace. Using the
Overstreet Price Guide
is a good starting point, but for key issues try to check completed listings on eBay to make sure you have the most up to date information.
For dollar bin books consider
listing bulk lots
or series and storyline runs to save on shipping and fees. I would recommend pricing your books at $1.00 to $5.00 below value to keep turnover rates high. While it is enticing to make the big sale, you may need to sit on the book for an extended period. Some sellers may be more comfortable holding out on a larger sale, but try to remember in most cases it is better to quickly cycle your inventory –– a comic is worth what someone is willing to pay and having cash in hand allows you to quickly replenish inventory. For more information on pricing your comic books,
please see here
.
Conditioning Your Comics
This is one of the most important things you can do to maintain comic book sales online. The more the buyer trusts their book will arrive as described, the more likely they are to return to your store and the more willing they are to make larger purchases. When conditioning your books, try to be as accurate as possible, avoid using misleading or vague terms, and whenever possible include at least one photo of the book. Of course it's not realistic to spend more than thirty seconds or so conditioning each $3 book, but try to remain fair and unbiased with the mindset of what the customer's expectation will be. Keep in mind the person purchasing online often will make small purchases to get a better understanding of your personal conditioning standards. So while it may seem tedious, it's the first step to creating a repeat customer. For more information on conditioning your comics, check out the
TCGplayer Comic Book Conditioning Standards
.
Popular Now
Almost all comic shop owners who have survived for this long are savvy enough to remain on top of all the ups and downs of the industry, but it's worth a brief refresher for those new to selling comics. Speculation has driven much of the market recently –– while this has been controversial within the hobby, it is undeniable that it has had a huge impact on pricing and sales. Keeping an eye on rumors for upcoming movies and shows is now part of the job description, with information and demand changing daily.
This is a short list of upcoming projects in 2023 and 2024 that may cause a spike in interest and sales for the related titles:
Marvel
Secret Invasion, Disney+ show.
Daredevil: Born Again, Disney+ revival of canceled Netflix show.
Avengers: The Kang Dynasty, the next large crossover event in the MCU has caused spikes in interest for titles featuring Kang, similar to the effect seen on titles featuring Thanos leading up to Avengers: Infinity War.
Fantastic Four, little is known yet but that hasn't stopped speculation from influencing interest as one of Marvel's best-selling franchises enters the MCU.
DC
-The Flash, despite the current status of DC's film division, it hasn't stopped anticipation for the first Flash standalone movie which will open up DC's multiverse aspects.
Untitled sequel to The Batman, this movie is still pretty far off but speculation continues within the latest rumor that the villain Clayface will make his first live action appearance. Batman has remained one of DC's strongest titles and it only helps to have the excitement of a movie behind it.
Blue Beetle, the first appearance of one of DC's lesser-known characters has generated a lot of excitement with the recent release of the trailer increasing buzz around the character.
Reliable Sellers
Finally, it's always best practice to keep in stock the issues that consistently sell no matter what. All key issues featuring first appearances, important storylines, new takes on old characters and classic cover art are always of interest. Silver and Bronze age books remain as popular as ever, especially for top tier titles like Amazing Spider-Man, X-Men and Batman. When listing older books, make sure to include at least one picture to give the buyer a better sense of the condition and include descriptions when possible.