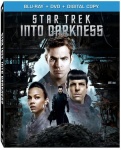 This week's home entertainment fare includes J.J. Abrams' new
Star Trek
film as well as a full slate of TV releases including
The Big Bang Theory, Homeland
, and
Castle
, plus a new
Last Exile
anime series, and a new Blu-ray edition of what is arguably the world's first slasher movie,
A Bay of Blood
, which was directed by horror movie maestro Mario Bava.
Theatrical Releases
This week's biggest release is certainly J.J. Abrams'
Star Trek Into Darkness
(Paramount, "PG-13," $28.98, BD/Combo $39.99), which earned $227.2 million at the domestic box office this summer. As he did in his first
Star Trek
film, director J. J. Abrams took his cue from the original
Star Trek
TV series--expanding on themes and episodes that still resonate in the collective consciousness of Trekkers, and which also remain relevant and familiar to those who only dimly remember the exploits of Spock and Kirk. The major problem with this release is Paramount's handling of the extras. By splitting the key extras among the major mass market and online outlets the studio lays itself open to charges of exploiting the loyal
Star Trek
fan base yet again (see "
Paramount Sticks It To Star Trek Fans Again
").
Tyler Perry Presents Peeples
(Lionsgate, "PG-13," $19.98, BD $24.98) focuses on a black upper class family. Craig Robinson is an ordinary guy who wants to marry Kerry Washington, the daughter of a Hamptons-dwelling clan that is known as "the chocolate Kennedys."
Peeples
is a modern comedy of manners with more than its share of fish-out-of-water humor. Tyler Perry's name above the title didn't help much with audiences, since
Peeples
only made $9.1 million, but it may help this film find its audience on DVD.
Romance in a slightly dour Scandanavian key is also the theme of Susanne Bier's
Love Is All You Need
about two damaged middle aged souls played by Pierce Brosnan and Trine Dytholm. Set in suddenly modishh Denmark, this is an honorable effort that manages to generate some art house comedy to accompany its drama.
Anyone worried about the impact of climate change should check out the documentary
Chasing Ice
(New Video, "PG-13," $29.95, BD $39.95), which follows acclaimed environmental photographer James Balog, who was a climate change skeptic before he started photographing the retreat of North American glaciers for National Geographic. With incredible time lapse footage from cameras deployed across the artic by Balog and his band of fearless young adventurers, this film provides a spectacular and disturbing series of images documenting the increasingly rapid changes in our planet's weather systems.
TV on DVD
It's high season for TV releases with a ton of geekcentric titles including the
The Big Bang Theory: The Complete Sixth Season
(Warner Bros., 528 min., $ 44.98, BD $54.97). The pop culture obsessed protagonists of TV's most popular sitcom have even unwittinglycreated something of a backlash from comic shop owners who are tired of civilians stopping in their stores to make lame
Big Bang
reference (see "
Confessions of a Comic Book Guy—No Sheldons
"), but that would appear to be a small price to pay for putting comic books in the forefront of that most mainstream of media—network television. Extras on this well-produced set include a cool feature about the production of the episodes in which Howard was in space, plus interviews with the show's couples talking about how their on-screen relationships are developing.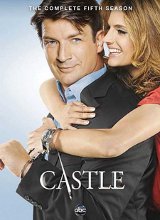 Also due this week is
Castle: The Complete 5th Season
(Disney, 528 min., $45.99), which contains all 24 episodes of the popular ABC cop show that features the gorgeous Stana Katic and the suave Nathan Fillion in a slickly produced series that mixes elements of the police procedural and the serial thriller, with a percolating romance between the two leads, which was finally consummated in
Season 5
.
Castle
can slip across the line into the trivial on occasion, but Fillion is the closest thing we have to a William Powell (the
Thin Man
series), and he is ably supported by a strong cast.
Castle
is the one current cop show that values humor over realism and the result is a considerable gain in entertainment value accompanied by the inevitable loss of gravitas.
The "War on Terrorism" themed
Homeland
has seriousness to spare as well as a great, if occasionally overly histrionic, central performance from Clare Danes.
Homeland: The Complete 2nd Season
(Fox, $49.99, BD $59.99) collects all 12 episodes of the highly rated and critically-acclaimed multi-award-winning cable series that will likely be one of this week's home entertainment bestsellers.
Also of special interest to geek viewers is
Supernatural: The Complete 8th Season
(Warner Bros. $59.98, BD $69.97), which collects all 23 episodes of the series that began on the WB and has continued on CW, where it was renewed for a ninth season.
Paramount is out with a
Star Trek: The Original Series
sampler,
Star Trek Origins
(Paramount, BD $26.99), which contains five episodes from ST: TOS including the unaired pilot "The Cage" as well as "Space Seed," which marks the first appearance of Khan, and the apparently unavoidable "The Trouble With Tribbles."
Contemporary series due out on Tuesday include the NYC-set police procedural
Blue Bloods: The Complete 3rd Season
(Parmount, 880 min., $64.99), the Charlie Sheen vehicle
Anger Management, Vol. 2: Episodes 11-32
(Lionsgate, 506 min., $29.98, BD $34.97), the NBC firefighter drama
Chicago Fire: Season One
(Universal, 1029 min., $44.98), and the excellent
Parade's End: The Complete Series
(HBO, 300 min., $34.98, BD $39.98), which includes all five episodes of the miniseries based on the Ford Madox Ford novels that was written by Tom Stoppard and stars Benedict Cumberbatch and Rebecca Hall.
Animated TV on DVD releases include the bargain-priced
The Wild Thornberrys, Seasons 4 & 5: The Final Seasons
(Shout Factory, $19.93), and the
Scooby-Doo
sampler
Scooby-Doo, Where Are You! Run for Your Rife!
(Warner Bros., 286 min., $19.98).
Vintage TV releases include the long unavailable
Hullabaloo
music variety show that ran on NBC in 1965 and 1966. MPI is releasing four volumes in its "best of" series starting with
Hullabaloo: The Best of Hullabaloo, Vol. 1
(MPI, 55 min., $14.98). Unfortunately the broader scope of
Hullabaloo
makes it less interesting than its competitor on ABC
Shindig
, which was much more dedicated to rock, but music fans will find much of interest on the Hullabaloo discs.
Other vintage TV releases include the classic sitcom
The Many Loves of Dobie Gillis: Season 1
(Shout Factory, 930 min., $29.93), which includes 39 episodes. Shout Factory has released the complete series and is now making the show available in single season sets—and
Season One
, which featured Tuesday Weld and Warren Beatty in supporting roles, is certainly worth it.
Also out on Tuesday is the classic western series
Wanted Dead or Alive: The Complete Series Special Edition
(Mill Creek, 2378 min., $29.98). This is the series that MADE Steve McQueen a star and it is well worth the cost at this price.
Anime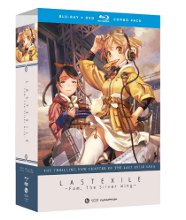 This category sees another week of strong releases led by
Last Exile: Fam, The Silver Wing Pt.1
(Funimation, "14+," 300 min., BD/Combo $64.98), Ltd. Ed. $69.98, which contains the first half of the 23-episode series produced by Gonzo in 2011. In this second
Last Exile
series takes place two years after the events in the original
Last Exile
series from 2003.
Fam, The Silver Wing
is set on Earth, the original home of the colonists of Prester, but like the original, the new series is full of superbly animated flying sequences featuring the cool steampunk vanships. Like the original
Last Exile
,
Fam, The Silver Wing
provides loads of stylish fun.
The Limited Edition
comes in a cool artbox that also has room to hold
Last Exile: Fam, The Silver Wing Pt. 2
(Funimation, "14+," 300 min. $64.98), which contains the rest of the series, and which will all be available on Tuesday so fans can enjoy the entire series with either a solid English dub or the original Japanese language track with subtitles.
Also new this week are
Bleach: Set 18
(Viz Media, "13+," 300 min. $44.82), which includes episodes 256-267 of the long-running series based on Tite Kubo's supernatural action manga, and
Blue Exorcist: Season 2 Complete
(Aniplex of America, "13+," 325 min., BD Ltd. $174.98, DVD $71.98), which contains episodes 13-25 of the popular anime produced by A-1 Pictures and based on the action-packed supernatural-themed shonen manga series by Kazue Kato. The pricy limited edition comes with an audio CD, a bonus DVD of English cast interviews, a 36-page book, and a box decorated with a design by
Blue Exorcist
manga artist Kazue Kato.
New on Blu-ray is
This Boy Caught a Merman
(Sentai Filmworks, "17+," 30 min., BD $24.98, DVD $14.98), the second OVA produced by independent animator Soubi Yamamoto. The grief stricken protagonist of this series almost drowns, but instead he is rescued by a beautiful young man.
Also new on Blu-ray is the classic
Patlabor TV Series Collection 2
(Maiden Japan, "14+," 300 min., $59.98 BD $69.98), which collects episodes 13-24 of the 47-episode 1989-1990 science fiction cop mecha series.
Two long-running kid-targeting anime series also have key releases this week. The entire 49-episode
Yu-Gi-Oh! Season One Collection
(New Video, "10+," $44.95) is now available a very reasonable price, while a there is also the debut of a new
Pokemon
anime series,
Pokemon Black and White: Rival Destinies Set 1
(Viz Media, "6+," 260 min., $19.99), which collects ten episodes of the recent series.
Horror Classics on DVD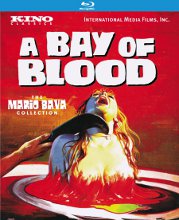 The highly influential horror films of Mario Bava with their luscious Euro babes adorned with cloud-scraping teased hairdos and inch-long false eyelashes cavorting through houses filled with futuristic furniture to a cheesy soundtrack of organ-based Italian pop must be an acquired taste for today's younger moviegoers, but for horror fans of a certain age, there is as much of a nostalgic appeal in the mod trappings of Bava's creations as in the buckets of blood that he and special effects ace Carlo Rambaldi unleased on the big screen. Kino has recently released two Bava classics on Blu-ray including
A Bay of Blood
(Kino, "R," $24.95), which debuted in Italy in 1971 as
Reazione a catena
and here in the U.S. with the much more Grindhouse-friendly moniker,
Twitch of the Death Nerve
.
The new Blu-ray transfer produces what is likely to be the best version of the film we are likely to see. The one caveat is that although this disc does include a version with the original Italian dialogue track, that version does not have nearly the visual clarity of the English language hi-def version. It is great to hear the original Italian actors rather than the indifferent English dub, but again real Bava fans have grown accustomed to watching his films dubbed, and those who want to watch this film in Italian will pay a steep price in visual clarity.
For anyone interested in horror film history however,
A Bay of Blood
is clearly important for its influence on the genre. It is arguably the first (and maybe the best) slasher film, so anyone who admires the later
Nightmare on Elm Street
films should take a look at
A Bay of Blood
in order to see from whence all the mayhem came.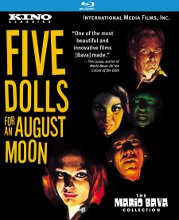 Kino's other recent Bava release is
Five Dolls For an August Moon
(
5 Bambole Per La Luna D'Agosto
, Kino, "R," $24.95), which is Bava's take on a sort of Agatha Christie-style
!0 Little Indians
saga set on a futuristic island where scantily-clad babes cavort and corpses begin to pile up.
Five Dolls
wasn't released in the U.S. until 2001, and it doesn't have the historical importance of
A Bay of Blood
, but Bava fans will enjoy the familiar Bavian mis-en-scene nonetheless
Tom Flinn
The opinions expressed in this column do not necessarily reflect the opinions of the editorial staff of ICv2.com.