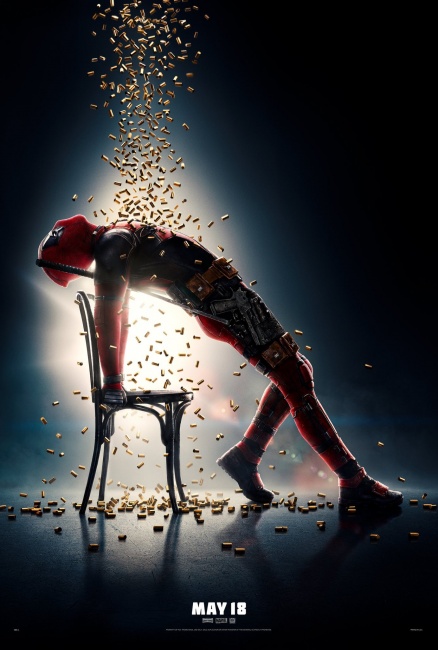 David Leitch's
Deadpool 2
topped the weekend box office with $125 opening, down just 5% from its R-rated predecessor. The
Deadpool
sequel helped drive the weekend domestic box office total over $200 million for the fourth time this year, while delivering a 65% year-over-year increase from the same frame last year when
Alien Covenant
debuted with $36.2 million.
While it couldn't quite match the opening of the original
Deadpool
($132.4 million in 2016),
Deadpool 2,
which opened in a Fox-best 4,349 theaters, posted the second best opening ever for an R-rated film (not adjusting for inflation). Though its debut total was down on the domestic front, overseas
Deadpool 2
was running about 7% ahead of its predecessor as it earned $176 million from 81 markets for a record-setting $301 million global opening for an R-rated film. This is without China, where
Deadpool 2
does not have a date yet—the Chinese are reluctant to show R-rated films, but the popularity of Deadpool might result in some sort of a compromise—a partial muting of the "merc with a mouth" for the Middle Kingdom, perhaps?
Deadpool 2
started its run well ahead of its predecessor with a huge $18.6 million from Thursday night previews. After a $53 million Friday, analysts were predicting a $133 million 3-day total, but
Deadpool 2's
debut was decidedly front-loaded. The good news for
Deadpool 2
is that it opened at a great time, since next weekend is Memorial Day, traditionally one of the best movie-going frames of the year, which should greatly limit
Deadpool 2's
second weekend drop-off. Also working in
Deadpool 2's
favor is a strong 82% positive rating on review aggregator Rotten Tomatoes, and a solid "A" CinemaScore from opening weekend audiences, which skewed male (61%) and a bit older than the original
Deadpool
(53% over 25), with 62% over 25, though having 38% under 25 is still a solid demographic performance for a superhero film.
The
Deadpool
franchise, which is heading to Disney and perhaps back to Marvel Studios via merger (see "
Disney-Fox Deal Signed
"), makes merciless fun of the superhero genre with fourth-wall-breaking, self-referential remarks, while still benefiting from and even accentuating the violence and slam-bang action at the core of the genre's appeal. Does the small drop in the domestic opening for
Deadpool 2
mean that the audience for the franchise's self-referential humor is limited? Limited perhaps, but still very big, judging from
Deadpool 2's
debut, and if it does all right over the Memorial Day weekend it won't have any new superhero competition until
Ant-Man and Wasp
debuts in July.
Meanwhile Marvel Studios'
Avengers: Infinity War
dropped 53.8% in its fourth weekend as it earned $28.7 million to bring its domestic total to $595 million. The big question on the domestic front is how well will
Infinity War
do over the Memorial Day weekend, and will it be enough to catch Marvel Studios'
Black Panther
, which is still the highest-grossing film of 2018 so far as it sits just about $2 million short of crossing the $700 million barrier. Overseas
Infinity War
is still crushing it, earning an additional $84.4 million for an overseas total of $1.218 billion and a mammoth global total of 1.81 billion.
Infinity War
now ranks #3 (not adjusting for inflation) in terms of overseas earnings, trailing only
Avatar
and
Titanic.
Weekend Box Office (Studio Estimates): May 18-20, 2018

Film

Weekend Gross

Screens

Avg./Screen

Total Gross

Wk#

1

Deadpool 2

$125,000,000

4,349

$28,742

$125,000,000

1

2

Avengers: Infinity War

$28,672,000

4,002

$7,164

$595,032,959

4

3

Book Club

$12,500,000

2,781

$4,495

$12,500,000

1

4

Life of the Party

$7,725,000

3,656

$2,113

$31,036,507

2

5

Breaking In

$6,470,000

2,537

$2,550

$28,750,710

2

6

Show Dogs

$6,034,770

3,212

$1,879

$6,034,770

1

7

Overboard

$4,725,000

1,820

$2,596

$36,973,570

3

8

A Quiet Place

$4,040,000

2,327

$1,736

$176,176,313

7

9

Rampage

$1,500,000

1,466

$1,023

$92,423,329

6

10

RBG

$1,280,000

375

$3,413

$3,880,766

3
Paramount's geriatric distaff comedy Book Club, proved to be a solid bit of counterprogramming as it earned a better-than-expected $12.6 million. The audience for Book Club predictably skewed heavily female (80%) as well as quite a bit older with 88% of the crowd over 35, and 60% over 50. This underserved audience doesn't necessarily show up for opening weekend, so don't be surprised if Book Club, which earned an "A-" CinemaScore, hangs around for a good bit of the summer.

Melissa McCarthy's mother/daughter comedy Life of the Party dropped 57.3%, which is not a good sign, though the jury is still out on the film's box office future. We will know more after next weekend.

Also fading fast is the urban thriller Breaking In, which stars Gabrielle Union, and which slipped 63% as it earned $6.5 million to bring its domestic total to $28.8 million, more than four times the film's six million dollar budget, which means the film is already in the black.

Opening disappointingly in sixth place was the animated feature Show Dogs, which earned just $6 million from over 3,200 theaters, one of the worst showings ever for a film opening in over 3,000 venues. The only good news here is that the film earned an "A-" CInemaScore from the few folks who saw it.

A decade ago almost every animated feature was doing respectable business. For the past several years, that has definitely not always been the case—as the cost of basic computer animation has gone down, a glut of lower quality releases has poisoned the well a bit. Fortunately for the superhero genre, the barriers to entry are higher, both in terms of budgets, and more importantly in acquiring the rights to characters deemed worthy of blockbuster-level budgets. If the Fox/Disney merger goes through, the superhero genre will largely be in the hands of just two studios, Warner Bros., which has "first dibs" on all the DC characters, and Disney/Marvel Studios, which is consolidating the rights to the Marvel characters.

John Krasinski's A Quiet Place dropped just 37% as it earned $4 million, bringing its domestic total of $176.17 million, passing Jordan Peele's Get Out's remarkable $175 million domestic total last year. A Quiet Place opened in China, where it earned $17.7 million, boosting its overseas earnings to $120 million, and its global total to almost $300 million. Not bad for a film that cost just $17 million to make.

Be sure and check back here next weekend to see if Solo: A Star Wars Story, which blasts into 4,200 theaters can take over the top spot.