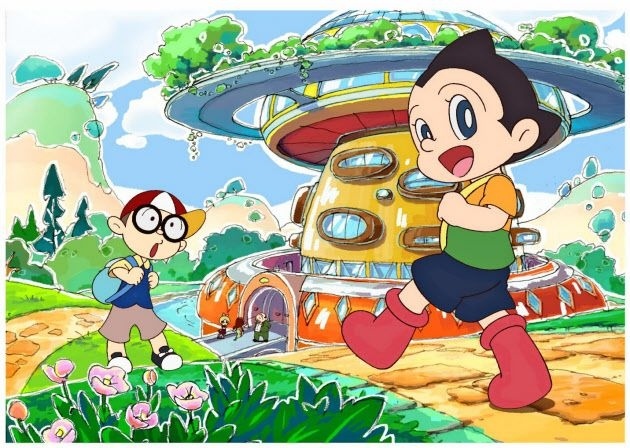 Confessions of a Comic Book Guy is a weekly column by Steve Bennett of Super-Fly Comics and Games in Yellow Springs, Ohio. This week, Bennett looks at the many new versions of Astro Boy.
I've long considered myself to be North America's biggest fan of Osamu Tezuka's Tetsuwan Atomu, a.k.a. Astro Boy. Which is admittedly something that's fairly easy to do given I have no idea if there are any other contenders for the title. I'm always happy when I get a chance to write about him, like back in 2014 (see "
Confessions of a Comic Book Guy--OK, I Didn't See This Coming
") when I wrote how a new Astro Boy animated series was being made -- in Nigeria. Naturally, I then forgot all about it until I discovered that the series, all eight episodes, was available on YouTube under the title
Little Astro Boy
. Intended for preschoolers, this Astro is a not particularly bright toddler with a habit of bursting through walls. Generally, I don't approve of classic cartoons characters being infantilized this way so I really should object to
Little Astro Boy
but it's far too silly, and entirely too cute, to complain about.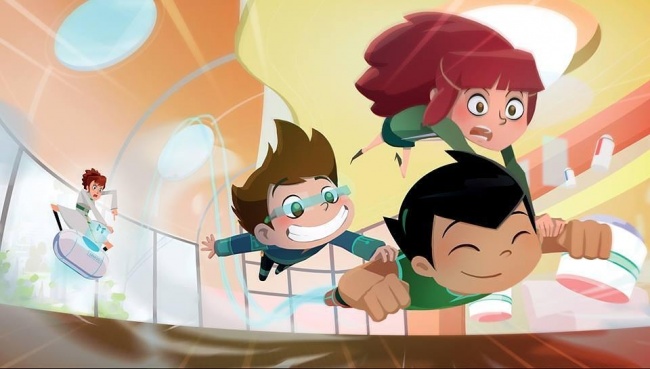 After the fact, I learned Tezuka Productions was partnering with other international companies to create localized adaptations of Astro. The next one is
Go Astro Boy Go
, a French-Japanese co-production which is also intended for a preschool audience. Flying in formation next to Astro in the promotional art is Atom Cat (though I'm willing to bet he'll be called Astro Cat in the series), a cat with all of Astro's robotic abilities. Which I know sounds like the kind of ancillary character created by animators to sell toys, but
Atom Cat
is actually a manga by Tezuka from 1986; an English version was published by Digital Manga Publishing in 2013. The first season, consisting of 52 11-minute episodes, is set for a 2019 release and I'm hoping it will do better than
Little Astro Boy.
Because I'm for anything that will introduce my favorite character to a new generation of kids, but I have to confess it's also because I find
Go Astro Boy Go
to be kind of adorable.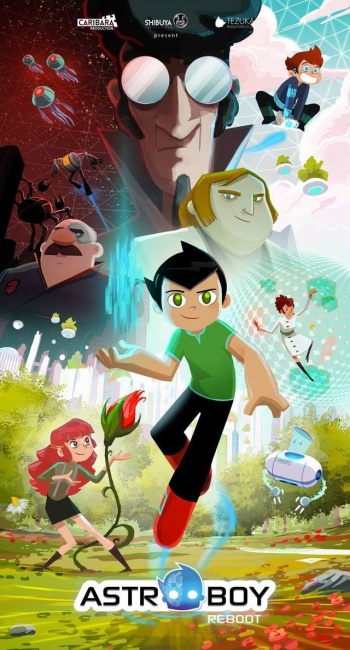 And finally, there's
Astro Boy Reboot
, a France-Monaco-Japan co-production intended for 8-to 12-year-olds. It was announced back in 2014 (see "
'Astro Boy' Gets New Treatment for TV
"), and a teaser trailer, featuring a combination of 2D and CG animation and a decidedly non-anime aesthetic, was released in 2015. Originally there were supposed be 26 26-minute episodes, but in 2016 it was announced that Season 1 would instead have 52 11-minutes episodes. This change is undoubtedly due to the fact that two 11-minute episodes per animated half-hour is now the standard format for animated programming on Cartoon Network, Nickelodeon and Disney. The only exception to this on basic cable that I can think of is
DuckTales
. Adapting to the new 11-minute format might explain why Astro Boy Reboot has yet to be released.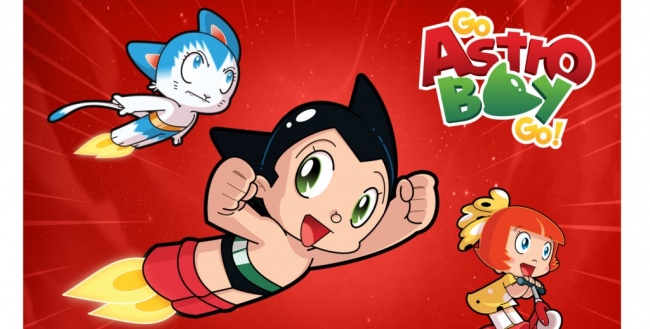 I knew that major comic book conventions were being held in France, Italy, Tokyo, Russia, India, and Brazil. But up until a couple of days ago, I was completely ignorant of the existence of The Monaco Anime Game International Conferences. It's an annual one-day event devoted to the worlds of comics, manga, video games and animation where admission is free (though prior registration is required), dedicated to "meeting, greeting and sharing!" It's organized by Shibuya Productions, the Monaco-based company that's co-producing
Go Astro Boy Go
. In partnership with Michel Lafon editions, they created the manga label Shibuya X Michel which focuses on creating original manga by young international talents. And on March 9th they announced that one of these titles will be
Astro Boy Annee Zero
, which translates to
Astro Boy Year Zero
. It's to be written by Jean-David Morvan and feature art by Guillaume Martinez and Gérald Parel and is set for a July 2019 release.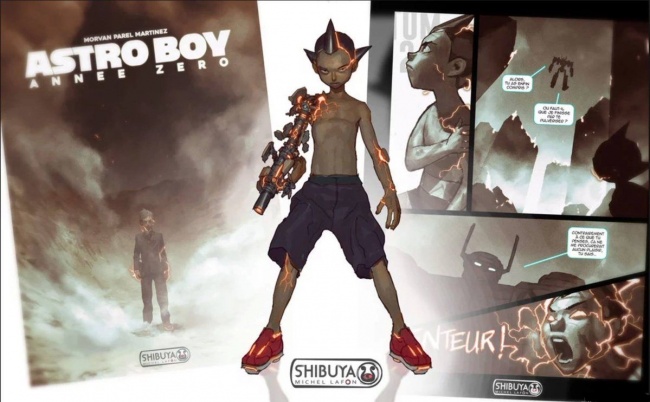 Nothing else is known about
Astro Boy Year Zero
but from what I've seen so far of the art it's a pretty safe bet that it's going to be a grimdark, edgy take on the character. Which is fine. It certainly won't be the first time Astro and his world has been interpreted by creators other than Tezuka. Like Naoki Urasawa's
Pluto
and Tetsuro Kasahara's
Atom: The Beginning'
(though the less said about
The Original Astro Boy
published by NOW Comics back in the 1980s the better). I'm no purist; being a purist seems to invariably lead to bitterly complaining about things on message boards, and where would I find the time?
Tezuka's Astro Boy stories could be sad, silly, dark, stark, funny and heartfelt. So Astro Boy Year Zero, Little Astro Boy, Go Astro Boy and Astro Boy Reboot are all equally valid takes that have the potential to bring the character and Osamu Tezuka's stories to new audiences. I would like for Astro to be more popular in America. Because it's a sentimental childhood favorite. And it would be cool if he could team up with Superman and there could be an Astro Boy balloon in the Macy's Thanksgiving Day Parade. Sure. But also because his stories had a message, one that isn't heard, or understood nearly enough right now. To quote Osamu Tezuka himself, "What I try to appeal through my works is simple. The opinion is just a simple message that follows: 'Love all the creatures! Love everything that has life!'"
The opinions expressed in this column are solely those of the writer, and do not necessarily reflect the views of the editorial staff of ICv2.com.