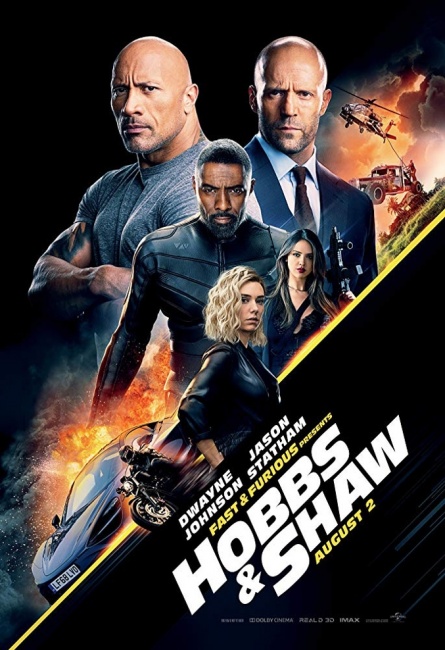 Hobbs & Shaw
, the
Fast and Furious
spin-off directed by David Leitch, took the weekend box office crown as expected. Helped by a strong list of holdovers,
Hobbs & Shaw
powered the box office to its third straight weekend of year-over-year gains with the top 12 films pulling in 14.7% more than during the same weekend a year ago when
Mission Impossible 6
topped the charts for the second straight time with $35.3 million.
While
Hobbs & Shaw
did post the best non-Disney, non-superhero debut of the summer with $61.8 million, that was way less than $98 million that the previous
Fast and Furious
film,
Fate of the Furious
debuted with in 2017. And
Hobbs and Shaw
with its $180 million production cost wasn't priced like a normal spin-off, which given the $60 million opening could spell financial trouble for Universal except for two things, #1, the overseas market where
Hobbs & Shaw
blazed to $120 million, twice its U.S. earnings, and this was without China where the franchise is extremely popular (
The
Fate of the Furious
earned $393 million in the Middle Kingdom vs. $226 million here in the States).
The second thing that this "real world" action fantasy has going for it is good word of mouth. Not only did
Hobbs & Shaw
get decent reviews (67% positive on Rotten Tomatoes), opening weekend audiences, which skewed male (58%), gave the film a solid "A-" CInemaScore. The crowd
Hobbs & Shaw
attracted was quite diverse with Caucasians making up 40%, followed by Hispanics (24%), African-Americans (20%), and Asians/Others (16%), and very much younger with over 70% under 34. So given that it's pretty much the last blockbuster of the summer,
Hobbs & Shaw
should have a good run domestically, though it seems unlikely that it will match
Fate of the Furious'
domestic earnings ($226 million).
Perhaps the more interesting question is, will
Hobbs & Shaw
catch
John Wick 3
to become the #1 non-superhero action film of the summer? David Leitch, who directed
Hobbs & Shaw
, co-directed (uncredited) the first
John Wick
film with Chad Stahelski. Like Stahelski, Leitch was a stunt man and a stunt coordinator before starting his directorial career in 2014 with
John Wick
. Leitch went on to helm
Atomic Blonde
and
Deadpool 2.
John Wick 3
has earned $170.2 million, so
Hobbs & Shaw
, even with all its star power, has a long way to go.
Weekend Box Office (Studio Estimates): August 2-4 2019

Film

Weekend Gross

Screens

Avg./Screen

Total Gross

Wk#

1

Fast & Furious Presents: Hobbs & Shaw

$60,800,000

4,253

$14,296

$60,800,000

1

2

The Lion King

$38,246,000

4,802

$7,965

$430,889,078

3

3

Once Upon a Time in Hollywood

$20,025,000

3,659

$5,473

$78,842,475

2

4

Spider-Man: Far from Home

$7,755,000

3,446

$2,250

$360,328,925

5

5

Toy Story 4

$7,150,000

3,225

$2,217

$410,050,743

7

6

Yesterday

$2,440,000

1,837

$1,328

$67,902,655

6

7

The Farewell

$2,429,114

409

$5,939

$6,837,624

4

8

Crawl

$2,150,000

2,085

$1,031

$36,090,773

4

9

Aladdin

$2,018,000

1,370

$1,473

$350,369,592

11

10

Annabelle Comes Home

$875,000

919

$952

$71,575,112

6
Second place went to Jon Favreau's The Lion King, which dropped 50% in its third weekend, earning $38.2 million to drive its domestic total to a gaudy $430.9 million. This massive hit has earned $765 million overseas for a current global total of $1.195 billion.

Quentin Tarantino's star-powered Once Upon A Time in Hollywood also fared well, slipping just 51% as it earned $20 million in its second weekend bringing its domestic total to $78.8 million.

Spider-Man: Far From Home dropped 38% in its fifth weekend as it earned $7.8 million to bring its domestic total to $360.3 million and global tally to an impressive $1.08 billion.

Close behind was another Disney release, Pixar's Toy Story 4, which fell just 31.6% in its seventh weekend as it added $7.2 million to bring its domestic total to $410 million. TS4 also managed to earn $10.2 overseas, which puts its worldwide total at $959 million.

Lulu Wang's dramedy The Farewell expanded to 409 theaters and earned $2.4 million to push its domestic total to $6.8 million, giving it a solid chance to be the "art house hit" of the summer.

Alexandre Aja's eco-thriller Crawl also kept moving, earning $2.1 million to bring its North American total to $36 million—not all that impressive, thanks in part to a bungled roll out by Paramount, but still a modest summer stealth hit in a season that has had relatively few of them.

Next weekend will see the release of five films in more than 1,500 theaters, though none of them look like much of a threat to Hobbs & Shaw. The live-action Dora the Explorer film, Dora and the Lost City of Gold heads into 3,500 venues, while the talking dog movie The Art of Racing in the Rain hits over 2,800, the Guillermo Del Toro-produced adaptation of the children's horror book series, Scary Stories to Tell in the Dark, heads into 3000 theaters, the Vertigo comic book-based crime comedy The Kitchen will land in over 2,700, while the uplifting biographical film Brian Banks opens in 1,500 locations.