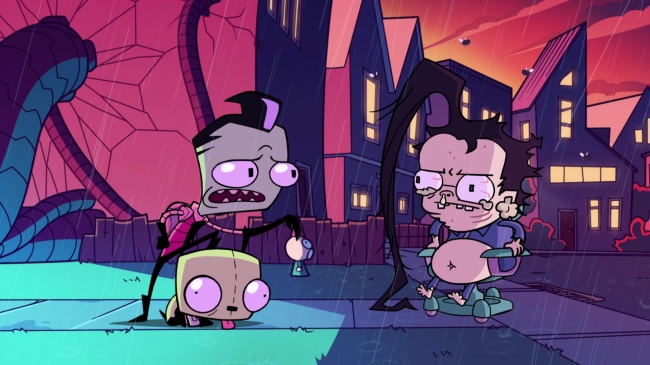 Confessions of a Comic Book Guy is a weekly column by Steve Bennett of Super-Fly Comics and Games in Yellow Springs, Ohio. This week, Bennett continues his survey of nostalgia in 21st Century animated series, and goes in-depth on Rocko's Modern Life: Static Cling and Invader Zim:
Enter the Florpus.
Last week, I wrote about Kevin Smith's upcoming Masters Of The Universe: Revelation project for Netflix (see "Confessions of a Comic Book Guy -- Forward Into The Past"). Specifically, I wrote about how it was a revival, not a reboot, and instead of appealing to the widest possible audience, like She-Ra and the Princesses of Power, it's being aimed specifically towards nostalgic adult He-Man fans. To me, that seems like a pretty narrow niche to support an expensive enterprise like an animated series, but I seem to have completely underestimated just how many He-Man fans there are, as well as just how a big nostalgia, especially 80s nostalgia, is right now. I have to confess, I just don't get the appeal of 80's nostalgia but then, I was actually around for the 1980's, and I didn't care for it the first time.
I seem to be in the minority; otherwise, Mattel wouldn't be making a He-Man Origins action figure line, according to Gizmodo. These will essentially be the 80s figures upgraded with "improved paint jobs," "new face sculpts," and added articulation; the originals had six, these will have sixteen. They will also include an "updated line of mini-comics, the way the originals did," and I have no doubt there will be retailers buying them solely to put the comics on eBay in hopes they'll be as valuable as the originals. The bad news for them is while the figures made their debut last month at Comic-Con they won't "...go on sale until Fall 2020, just ahead of the new He-Man movie that's also en route."
Masters of the Universe: Revelation is expected to at least look a bit different from the original Filmation series, but it really wouldn't be all that hard for them to recreate its distinctive look. At least there's evidence it can be done. Look at Rocko's Modern Life: Static Cling and Invader Zim: Enter the Florpus, two movies which recently premiered on Netflix; they're both nearly indistinguishable from the 90s and 00s Nickelodeon animated series and they both have very different takes on fan nostalgia (see "Kids Comics Roundup: More 'Witch Boy,' 'Over the Garden Wall'" and also, "'Invader Zim' Teaser").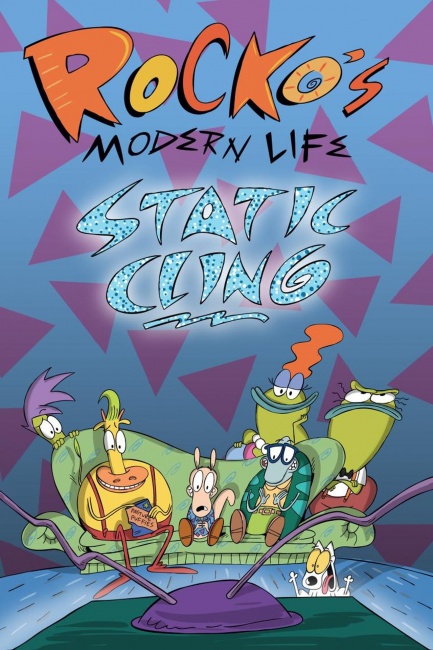 Rocko's Modern Life: Static Cling
takes it head-on in a meta-plot involving Rocko, Heifer, and Filburt who return to earth after a twenty-plus year sojourn in outer space trying to reboot their favorite sitcom
The Fatheads.
Heffer and Filburt effortlessly resume their old lives while wantonly embracing all of the new gadgets they missed out on, but Rocko isn't so lucky. In the series, he worked at Kind of a Lot O' Comics, but finds not only is it gone, but comic book shops have been replaced by automated kiosks with 3-D printers which custom print every comic sold. Which kind of makes our fears about being put out of business by digital downloads kind of silly.
To deal with his severe future shock Rocko becomes obsessed with finding The Fatheads creator and gets his friends to join him on a worldwide search for Ralph Bighead. They eventually find him only to discover in the interim Ralph has transitioned and is now Rachel. Heffer and Filburt are enthusiastically supportive, but Rocko barely acknowledges the change; he's too happy Rachel has agreed to make a new episode of The Fatheads.
While I read reviews of Rocko's Modern Life: Static Cling, I was taken aback by how often the first thing mentioned was its "adult humor," which admittedly was a part of the series but never it's defining element. The show always dealt in material that flew over the heads of the kids watching it but I've always felt at its core there was a simple human sweetness, which is how Static Cling deals with Ralph/Rachel. In the series, Ralph had been a minor, mostly sad, sour character who saw Rocko and his friends as exhausting, annoying Fatheads fanboys. But now that she's happy as Rachel, she can finally appreciate them, especially as they're people who knew Ralph and accept her as Rachel. It's a quiet, very effective moment that never comes across as contrived.
Static Cling comes with a message but it's not about diversity or inclusion but rather "things change." It's handled pretty deftly, though at the end it gets lamp-shaded when the literal "Winds Of Change" tells us "embracing change is the key to happiness."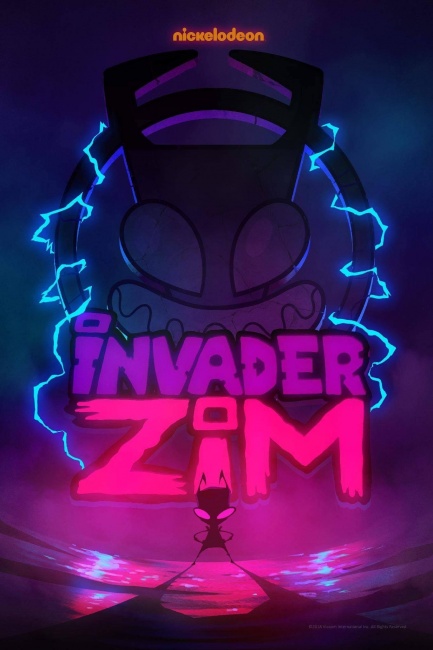 On the other hand, Jhonen Vasquez cares nothing for "puny human nostalgia" according to
SyFy Wire
. According to the piece, Vasquez, series creator as well as the writer and executive producer of
Invader Zim:
Enter the Florpus
, didn't want to exploit fans' nostalgia. He's quoted as saying "I definitely go in with this wary attitude that someone is taking advantage of an audience...taking advantage of, 'Hey, remember this thing? Here's a thing that isn't that thing, but it's wearing that same skin on its face.'" And I'm happy to report that this is a more hilarious, horrifying
Invader Zim
, albeit with a couple of innovations.
However, Zim fans should be forewarned. Enter the Florpus contains not one, but two genuinely heartwarming moments (I'm not kidding).
The opinions expressed in this column are solely those of the writer, and do not necessarily reflect the views of the editorial staff of ICv2.com.