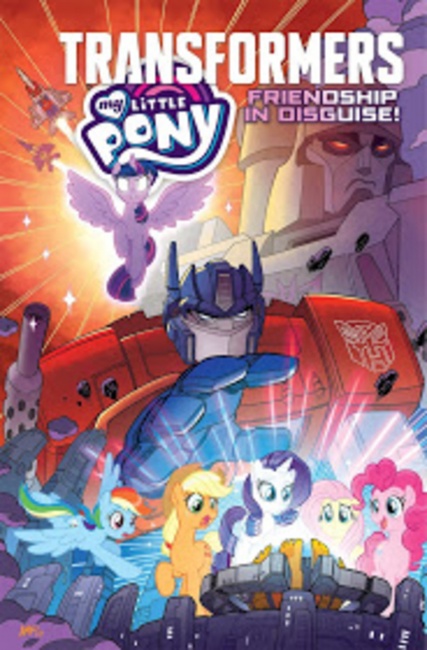 Confessions of a Comic Book Guy is a weekly column by Steve Bennett of Super-Fly Comics and Games in Yellow Springs, Ohio. This week, Bennett talks Bronies vs. Transisters, and debates whether or not they can find a common love of IDW Publishing's new My Little Pony/Transformers crossover.
In December 2018 (see Confessions Of A Comic Book Guy - We Fear Change), I wrote how during IDW's Star Trek Vs. Transformers crossover series the starship Enterprise became an Autobot. Something I un-ironically declared "sheer genius". And while discussing Synergy: A Hasbro Creators Showcase, a 48-page anthology comic written, drawn, and edited by women, I expressed disappointment it hadn't been a big crossover event that teamed up "female Transformers and G.I. Joes with My Little Pony's and Gem and the Holograms." Because I really wanted to "see flying Ponies fighting side-by-side with giant robots."
Which, in retrospect, seems like kind of a random thing to declare given that I'm on record as being burned out on crossovers and have approximately "zero" interest in either My Little Pony and Transformers. It's understandable that I'm indifferent to MLP, given it is a brand exclusively intended for the target age group of girls ages 2 to 11, at least originally. But it is admittedly a little odd that I've never warmed up to the Transformers, given my lifelong love of Japanese robots, but for some reason, I've never cared for their movies, cartoons, toys or comics.
Yet, I genuinely did want to see a My Little Pony/Transformers crossover, for some reason. I'll be honest, I'm not really sure why. Usually, I'd ascribe it to my desire to see something I've never seen before (and this certainly would qualify), but honestly, I can't even imagine what a My Little Pony/Transformer would be like. Other than at some point it would absolutely have to turn the ponies into robots and the robots into ponies. I mean, that's obvious. It certainly would be weird, which, as we well all know, gets you halfway to good and most likely fun. I could always use a little more fun.
Well, sometimes dreams do come true (see "Cybertron and Equestria Collide in 'My Little Pony/Transformers'). My Little Pony/Transformers is a four-issue weekly mini-series in May with the creative team of James Asmus, Ian Flynn, Sam Maggs, Casey W. Coller, Jack Lawrence, Sara Pitre-Durocher, Priscilla Tramontano, and Tony Fleecs. According to The Hollywood Reporter piece, the plot "will bring the conflict between the Autobots and the Decepticons to the Ponies' magical land of Equestria, with Twilight Sparkle and friends having to team with Optimus Prime to ensure that their home isn't overrun by the forces of mechanical evil."
Apparently I wasn't the only one to dream this dream. According to IDW Editor in Chief John Barber, "Teaming Transformers and My Little Pony has been a dream we've had for a long time." I'm not sure if the "Bronies" and "Transisters" will feel the same (I've got to confess, I'm curious to see which group will freak out the most about the indignity of this crossover online), but hopefully, they'll be reassured by the fact that Barber has also said the series will honor "the legacy of both universes" and that the story is done "in the most bonkers, fun way imaginable!"
l must admit I'm a little disappointed the series won't be called, as originally reported, Transformers: Friendship In Disguise because that is indisputably a much better title. But otherwise, I'm really looking forward to reading this comic, and not only as someone who loves profoundly wonky comics. Thanks to the inherent freak factor baked into its sky-high premise, I'm fairly sure it will be an impulse purchase for a lot of your customers who wouldn't ordinarily be caught dead reading a My Little Pony or Transformers comic. Not to mention new customers who come in exclusively for that "Transformers My Little Pony comic" they've heard about. Add the fact most likely it will be severely underordered and My Little Pony/Transformers has the potential to be an unexpected hit and instant sellout.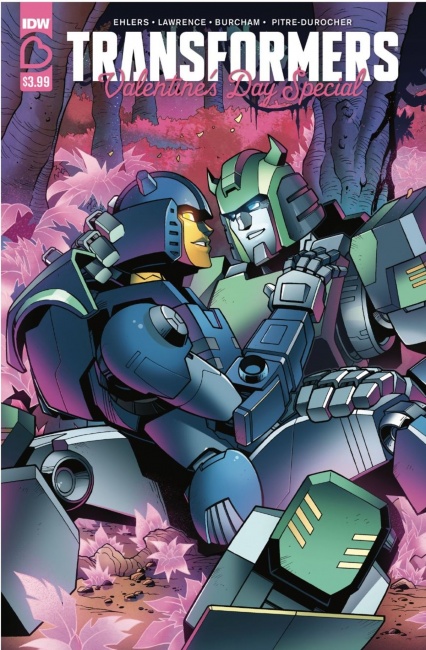 And, speaking of
Transformers
comics I couldn't even imagine, shipping this week;
Transformer's Valentine's Day Special
. That's another comic I'm going to have read before I'll believe it actually exists.
Back in 2014 (see "Confessions of a Comic Book Guy--Follow The Stream"), I wrote about Marvel Disk Wars: The Avengers, a short-lived anime series produced by Toei Animation and Walt Disney Japan. In this series, Captain America, Iron Man, Hulk, Thor, and Wasp find themselves trapped in experimental devices and must rely on five kids who are able to briefly summon them to battle evil. It was an interesting look at the Marvel characters through a Japanese pop culture prism and the series was every bit as weird, and as much fun, as the premise would suggest.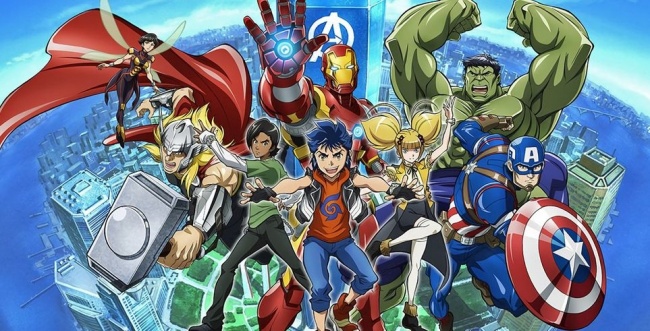 Sadly,
Marvel Disk Wars: The Avengers
never got an English translation or an official American release, which sure seems like both a shame and a missed opportunity to me. But later this month, we'll get another chance to see a Marvel anime when
Future Avengers
comes to Disney+. According to
Future Avengers: What Is Marvel's Disney+ Anime?
back in 2017, the series featuring Captain America, Iron Man, Thor, The Hulk, and the Wasp was announced as being exclusively for Japan but three years later it will finally come to America. The show will have the heroes acting "as mentors to a group of super-powered teens", so while the Marvel characters won't be "headlining", hopefully, they'll participate more in the adventures than they did in
Marvel Disk Wars: The Avengers.
The opinions expressed in this column are solely those of the writer, and do not necessarily reflect the views of the editorial staff of ICv2.com.