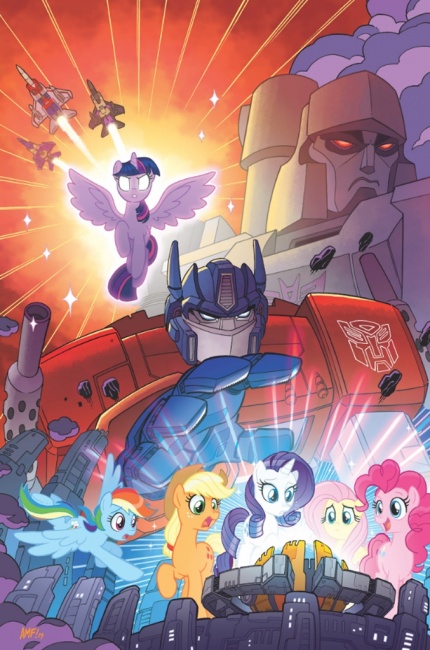 IDW Publishing, under license by Hasbro, will launch
My Little Pony/Transformers
in May.
This four-issue miniseries will be written by James Asmus, Ian Flynn, and Sam Maggs; and feature art from Casey W. Coller, Jack Lawrence, Sara Pitre-Durocher, Pricilla Tramontano, and Tony Fleecs. Fleecs will also provide artworks for the covers.
Queen Chrysalis has cast a spell to search for new allies but somehow manages to untangle her magic with a distant Cybertronian Spacebridge. Autobots and Decepticons are suddenly roaming Equestria. It is up to Twilight Sparkle, Optimus Prime, and others to overcome this new threat of magic and machinery.
My Little Pony/Transfomers follows the March crossover of Transformers vs. The Terminator (see "'Transformers vs. The Terminator'").
Click the gallery below for full-size images!