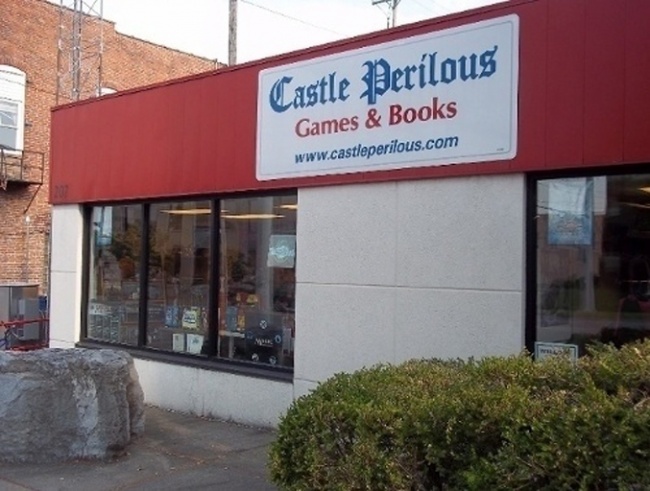 Rolling for Initiative is a weekly column by Scott Thorne, PhD, owner of Castle Perilous Games & Books in Carbondale, Illinois and instructor in marketing at Southeast Missouri State University. This week, Thorne recaps a news-packed week for Wizards of the Coast.
The latest inducement from WotC for stores to push for WPN Premium Level is the opportunity to receive either a Magic wall treatment for the store or a life-sized Chandra Nalaar statue, standing over five feet tall and valued at about $1200 (see "WizKids Unveils Full-Size 'Magic: The Gathering' Planeswalker Figure"). Long time members of the industry may remember the GameKeeper chain of stores that WotC acquired in 1999 and shuttered in 2003. Other stores, at the time, tried to acquire similar statues of iconic Magic creatures from the closing stores. Now, a store can get a statue by reaching Premium status by October 12. Other benefits for reaching Premium by September 28 include five sets of Secret Lair: April Fools (see "Another Free Product for Retailers from WotC"), and an all-foil set of Commander Collection: Green (see "Preview: 'Magic: the Gathering' 'Commander Collection: Green'").
In addition, stores that reach Premium and agree to make accurate POS data available to WotC will receive double the number of Secret Lair drops. WotC is working to make achieving Premium status really enticing. In order to help, WotC also announced the return of its Retail Improvement Grant (see "Rolling For Initiative -- Wizards Puts Its Money Where Its Mouth Is and Other Trends"). Grants are available for furniture, design, operations and even building improvements and will cover up to 50% of the projected cost of the project.
Zendikar Rising pre-releases this coming Friday with Pre-release Kits and draft booster boxes streeting then and the rest of the Zendikar Rising product line arriving the following Friday (see Wizards of the Coast Releases More 'Magic: The Gathering' 'Zendikar Rising' Product Info"). Well, mostly. Now it appears that stores will get allocated on the launch of Zendikar Rising, with one wave arriving, sans Bundles, in time for the launch date and the second wave of product arriving at an unspecified future date (see " Delays on Upcoming 'Magic: The Gathering' Releases"). This rather reminds me of the heavily promoted Jumpstart launch, wherein half the order showed up on release date with stores then unable to get a firm date for the arrival of the second wave (see "Wizards of the Coast Announces More 'Magic: The Gathering' Shipping Delays").
We've checked with our distributor regularly, and they had to keep telling customers that we had no firm information we could pass along regarding when we would expect our second wave of Jumpstart to arrive. I fear that, much like with Conspiracy, what started off as a pretty promising expansion for the Magic franchise will wither due to the lack of product for customers to purchase.
Finally, there was the announcement that management of the Avalon Hill line of board games will move from Wizards directly to Hasbro (see "Management of Avalon Hill Board Game Brand Will Move From Wizards of the Coast to Hasbro"). WotC has always promised to more actively develop the Avalon Hill catalog of titles, but aside from Betrayal at House on the Hill and Axis and Allies, the brand has languished, with only one or two new titles per year released under hte imprint, and nothing from the extensive Avalon Hill catalog. A major part of the lack of activity, I would hazard to guess, is the nature of most of the games in the Avalon Hill portfolio. Avalon Hill gained its reputation as a publisher of wargames, a genre that has definitely fallen out of favor with board gamers in recent years (see "Rolling for Initiative--25 years and 4 Major Trends"). I have some concerns about this move, though, and will discuss them next week. If you have any thoughts about WPN Premium, the delay of Zendikar Rising or the Avalon Hill move, email Castleperilousgames@gmail.com.
The opinions expressed in this column are solely those of the writer, and do not necessarily reflect the views of the editorial staff of ICv2.com.