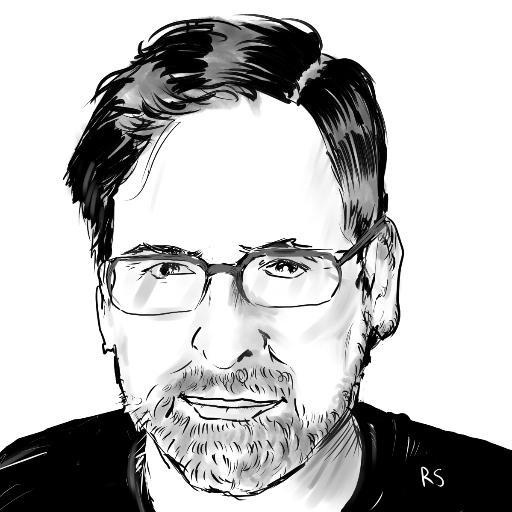 The race to bring popular digital-first mobile comics to print is branching off in different directions. Earlier this week, WEBTOON's Bobbie Chase talked about her company's strategy of creating a new imprint, WEBTOON Unscrolled, to publish popular works. Today I spoke to Alex Carr, Senior Director of Publisher Development at Tapas (formerly of Amazon's Jet City and DC, see "
Tapas Brings Former DC Editor Carr on Board
"), about their contrasting approach centered on top-tier partners. Our conversation has been edited for length and clarity.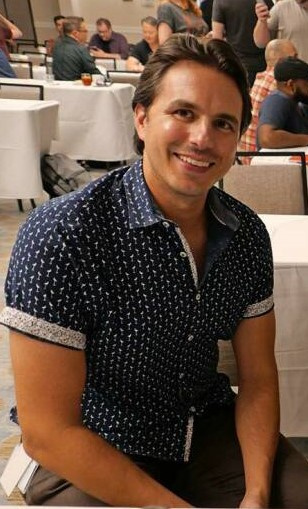 Rob Salkowitz, ICV2: How important is getting works into print for Tapas and creators?
Alex Carr, Tapas.
It's very important. That's the cornerstone of this department, helping creators take that next step. Most webcomics creators want to see their books in a bookstore. We're helping them make that dream come true.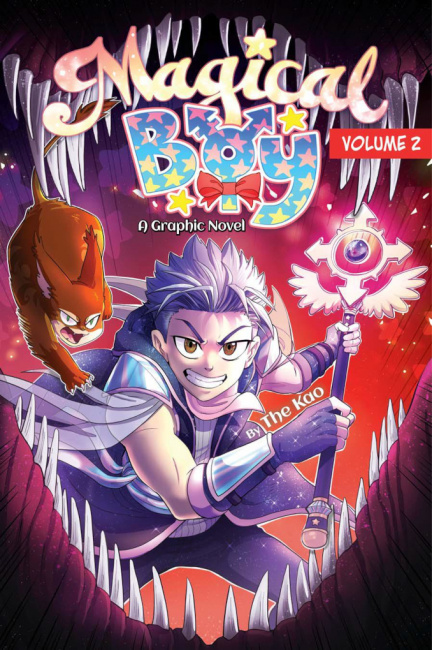 RS: What are some of the most successful print titles from Tapas so far?
AC:
It's early days, but
Magical Boy Volume 1
by The Kao, which was released by Scholastic in February, has been a big success. Scholastic has been a great partner for production and marketing. We expect Volume 2, coming out in September, to also be a big hit.
Of course we also have
The Beginning After the End
coming [from Yen Press] in July.
RS: In terms of print strategy, is Tapas committed to using partners to bring work to market or are you doing your own imprint?
AC:
Hey, I've only been here 12 months, quit pressuring me [laughs]! But seriously, we see the quickest way for success is partnering on behalf of our talent. Since I got here, I've been knocking on the doors of the best publishers I know, and the reception has been great. One of the benefits of working with Tapas is our creators. Now all a publisher has to do is format and publish, and we work together to leverage marketing and distribution.
RS: Do you negotiate the print deals on behalf of the creators, or are they free to strike their own deals?
AC:
It really depends on what kind of deal with have with the creators. But yes, I do negotiate on their behalf and certainly include them. One of my goals is to make sure that Tapas is seen in the creative community as the number one destination for talent, so their happiness is a big part of that. Negotiating in good faith, making sure safeguards are in place for each contract, giving them approvals, and making sure they love the next step for their content is really important.
RS: Are there production challenges to moving from the vertically-scrolling format to print? Does it impact the storytelling or the reading experience?
AC:
Some of our partners actually begin in page layout, so it's a really easy process to transfer the files, optimizing in terms of specs and proofreading etc. But yes, if it comes to us as a vertical scroll, then that's when the hard work begins, and we work closely with our editorial and publishing team. Our best-practice is to optimize for vertical scrolling first, since finding proof of success on the Tapas app is the first step of getting to success with a print partner. Our partners have been really great working with the talent to rebuild the narrative [when necessary] for the print format.
RS: Who are the key publishing and distribution partners that you're working with right now?
AC:
Scholastic is obviously a key name, given their award-winning, bestselling books, and we're thrilled with that partnership. We have a multi-book deal with Andrews McMeel, which I'm a huge fan of personally. The have hall of fame names on their list too, and they're not afraid of rebooting classic stories or introducing new ones. And then of course Yen Press is a leading publisher in manga, adult fantasy and many other genres. That was an easy call to make.
In terms of distribution, we're working with a variety of partners from the giants of the field to independent distros. Certainly DM customers can order the Yen Press books through Diamond, and our Scholastic and Andrews McMeel books are available through the usual channels.
RS: In dealing with multiple partners, do you take steps to provide some consistency in the branding and production so retailers and readers know these are all Tapas titles?
AC:
That was the first thing I wanted to do in this role: help position the Tapas brand across all these partners, to make sure the logo always stays in the same place, crediting the same roles, giving talent billing in the same place, etc. It's a collaborative effort. I don't want to step on the toes of our partners in terms of making sure they have room to do what they do best.
RS: Do you or your partners provide guidance for the channel in terms of placement, promotion, that kind of thing? I'm thinking some direct market stores may not have seen your material and may not know where it should live on their shelves.
AC:
Yes. That kind of guidance comes from our marketing team and our print partners' marketing team. We coordinate closely on that, and I contribute my own knowledge and experience of what works in terms of direct market. If any retailers have suggestions, we're happy to collaborate on that.
RS: Do you do any marketing or promotion independent of the partners to drive demand to your audience on the app, who might not be regular print comic buyers?
AC:
One of the first emails I send is to our marketing team and they begin developing living, working calendars for each title and develop marketing plans around the press release, so that we can make sure we're highlighting these titles to our digital readers. We have millions of digital readers and we are pointing these readers to print opportunities when we are fortunate enough to secure them.
RS: Are the books sold exclusively through retail distribution channels, or does Tapas offer print titles direct-to-consumer through the app?
AC:
Currently we lead customers to print partners via app and social media, not direct sales. Don't want to compete with print partners.
RS: A lot of direct market retailers see mobile-digital comics as disconnected from their business and their audience. What would you tell them about what Tapas graphic novels can do for them?
AC:
I'm a Wednesday warrior. There are lots of great comic shops in LA and I love talking shop with them. The benefit of carrying titles like this – outside of what we know works in the DM, comics and graphic novels are thriving in trade book market. DM should be aware of different genres and types of readers. A great way to increase the spectrum of readers is to have a breadth of content, which is what we're seeing on the app: action, romance, YA, etc. Most traditional publishers don't have the bandwidth for all this. We have so much content on the app, plus data that shows us what is connecting with readers at a very detailed level.
RS: Any other big plans to discuss?
AC:
I'm very excited about the potential of foreign markets. We have a lot of foreign publishers interested in this material, and we hope that will become a lucrative new channel for our creators.
Tapas collections releasing in 2022:
The Beginning After the End Vol. 1 by TurtleMe and Fuyuki23 [Yen Press]: 07/26/22
Magical Boy Vol. 2 by The Kao [Scholastic]: 09/06/22
DPS Only! by Velinxi [Andrews McMeel]: 10/25/22
Unfamiliar Vol. 1 by Haley Newsome/LavenderTowne [Andrews McMeel]: 10/25/22
The Witch's Throne Vol. 1 by WhatAHero [Andrews McMeel]: 10/25/22
For more info, see "Collection of Webtoon with Over 10 Million Views," and "Tapas Teams Up with Andrews McMeel."

For more great Webtoon Week articles, click here.

Click Gallery below for covers!

The opinions expressed in this column are solely those of the writer(s), and do not necessarily reflect the views of the editorial staff of ICv2.com.

Rob Salkowitz (@robsalk) is the author of Comic-Con and the Business of Pop Culture.