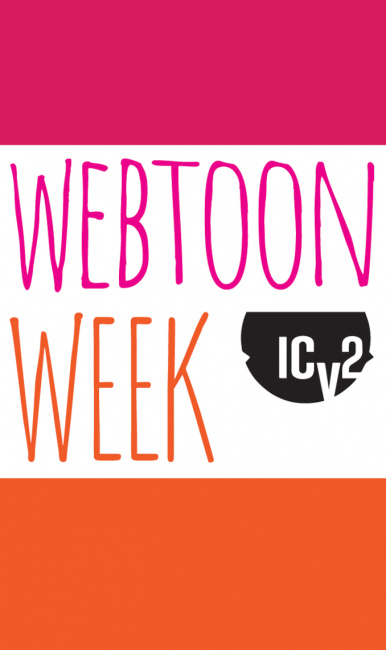 An ICv2 Release.
ICv2 is launching Webtoon Week, with full coverage of this accelerating driver of print sales, sponsored by Yen Press, Rocketship Enterprises, and Ablaze Publishing. During Webtoon Week, ICv2 will feature special articles on this growing pipeline of comics with large pre-existing audiences to print, including market reports, interviews, news, and tips.
"We've been tracking the webtoon phenomenon since my first trip to Korea in 2011, when the phenomenon was just developing" (see "
BICOF Showcases Manhwa
"), ICv2 Publisher Milton Griepp said of the new editorial event. "Since then, we've been covering the expansion of webtoons in North America, both from a business and a content gaze. Webtoon readers are the fastest-growing audience segment in the comics business, and this week we're bringing together a week of special content to help our readers understand this exploding phenomenon. We want to thank our sponsors, Yen Press, Rocketship Entertainment, and Ablaze Publishing for their support."
Watch ICv2 every day during Webtoon Week for more on what's happening in this rapidly growing segment of the graphic novel market.
Here's the full linked list of Webtoon Week articles:
News and Features
May 2022 NPD BookScan - Webtoons Dominate BookScan Author Chart
May 2022 NPD BookScan - Unit Sales of Webtoon Collections Growing
Archie News: 'Big Ethel Energy' Webtoon Gets Print Edition
ICv2 Interview: JuYoun Lee of Yen Press's Ize Imprint
Exclusive: Ablaze to Publish Two Korean Webtoons as Graphic Novels
ICv2 Interview: Lianne Sentar and Lissa Pattillo of Seven Seas
ICv2 Interview: Tom Akel of Rocketship Studios
Webtoons For Younger Readers Find Audiences Online, in Print
ICv2 Interview: Skybound Senior Editor of Comet on Webtoon Collections
Columns
Q&A with Bobbie Chase, WEBTOON Unscrolled
Confessions of a Comic Book Guy -- This Week in Webtoons
Tapas Executive Alex Carr on the Platform's Print Strategy
Previews
Preview: 'Fight Class 3' Omnibus Vol. 1 TP
Preview: 'Witch of Mine' Vol. 1 TP
Sponsored Content
Yen Press Presents Ize Press, A New Imprint Dedicated to Korean Content!
(Yen Press)
Rocketship Entertainment Launches Kickstarter for the 'Brothers Bond' Tabletop Game
(Rocketship Entertainment)
'Heavenly Demon Reborn!' is Coming for Revenge this Summer from ABLAZE
(ABLAZE Publishing)