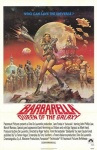 According to Variety, producers Dino and Martha De Laurentiis have secured rights to do a new Barbarella film. The property is based on a French comic book series from 1962, and this deal includes plans for the re-issue of the first two Barbarella books plus publication of material that hasn't been translated into English before.
The producers have signed Casino Royale writers Neal Pervis and Robert Wade to do the script.
Dino De Laurentiis, who also produced the first film, said the new Barbarella will be a modern adaptation and will highlight the main character's intelligence and fighting skills, in addition to her sexuality.
No production or release schedule has been announced for the project.