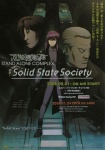 Broadcasting & Cable Magazine is reporting that the Sci Fi Channel is set to launch Ani-Mondays, a late night anime block to compete with the Adult Swim. The Sci Fi Channel's new anime block will get off to a rousing start on Monday June 11th at 11 p.m. (ET, PT) with the U.S. broadcast premier of Ghost in the Shell: Stand Alone Complex Solid State Society movie (see 'Ghost in the Shell: Solid State Society'), which won't be available on DVD until July 3rd. Talk about firing a shot across your competitor's bow--Ghost in the Shell: Stand Alone Complex has been a mainstay of Adult Swim programming and repeat showings of Stand Alone Complex 2nd Gig are set to begin on Adult Swim in May.
The Sci Fi Channel's move is an attempt to attract younger viewers (the cable network's viewer's median age is 44) and currently late night Sci Fi Channel programming attracts only about 44,000 18-34 year-old males compared with Adult Swim's 281,000 late night average with the same demographic group.
To provide programming for the new block the Sci Fi Channel has signed a one-year agreement with Manga Entertainment, which is part of Starz Media, the company that produces the Painkiller Jane series that airs on the Sci Fi network (see 'Painkiller Jane Debut Set'). A check of the Sci Fi Channel's June schedule indicates that after the debut of the Ghost in the Shell Solid State Society movie on the 11th, the next two Ani-Mondays feature the 24-episode time-traveling anime TV drama Noein at 11 p.m. (ET, PT) followed by the 13-episode psychological police procedural Tokko and the four-episode Macross Plus OVA, directed by sci-fi robot specialist Shoji Kawamori.