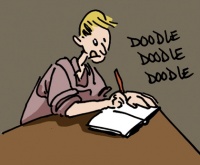 ICv2 recently spoke with First Second editorial director Mark Siegel about the publisher's upcoming graphic novel releases. In Part 1 of this interview, we talk about the company's plans for this fall.
Last time we talked, we discussed about half of the fall releases (see 'First Second's Second Year'). Can you tell me about the rest of your titles for this fall?
Town Boy is very exciting. Lat, for a lot of people, is a really outstanding figure from Malaysia. In Malaysia, Indonesia and Singapore, he's almost like royalty -- some of his cartoon characters are on their national airlines and people stop him in the streets; he's got Charles Schultz standing. He still does some newspaper, some editorial cartoons, and he's known for his biographical series, among others. It's not hard edged political cartoons; it's more social commentary with an endearment and a rich portrayal of life in Malaysia.
We started Kampung Boy in our first year, and the critical reception to that was really extraordinary. It got incredible reviews all around. It started doing very well, so we're continuing with that.
It's interesting, the people who are champions of it. At San Diego, Eddie Campbell was visibly selling the Kampung Boy book to everyone he knew, walking over from the Top Shelf booth with some in hand and saying, 'You've got to see this.' Matt Groening gave us this lovely quote on the cover. We actually had an old quote from him about Lat, and we sent him an e-mail asking if it was okay to use it, and he said 'No, let me get you a better one.' Five minutes later, we had a new one.
In the connoisseurs' world, Lat has been around, but he's really a discovery for Americans. Kampung Boy was the life of a Muslim boy growing up in rural Malaysia. I think one of the beauties of it is there's a humor, you can immediately connect to it. I think it's vital to have something like that which is Muslim life without any of the fundamentalism, without political connotations and just a universal childhood. I believed in that book from the start. Town Boy is in some ways an even better book -- he's growing up and we're into his first budding romance, and we're into his love of art. You see him learning to draw; you see these classrooms where they're drawing Rita Hayworth and pinups of American movies. It's just a really remarkable connection to a world that we don't know much about.
First Second from its inception was always going to have an international dimension. The thing that's going to change a little bit in the balance from here on is that people like Gene [Yang], people like Sara Varon, people like Jessica Abel, Paul Pope, the homegrown American talents are going to represent more of our list. I had to jumpstart the whole imprint with what we had on hand. Some, like American Born Chinese, was almost ready, almost finished. Or like Eddie Campbell with The Fate of the Artist, but then the other stuff, like the French stuff or Lat, they exist already, we just have to translate them and put them out, so that is more of the lists than they will be in the future.
Notes for a War Story, Gipi -- I think Gipi is possibly the greatest cartoonist to come out of Italy since Hugo Pratt. We started with a smaller story called Garage Band, which has had tremendous reception. Notes for a War Story is on our fall list, and that was what I felt we were leading up to. Artistically, graphically, I think it's a seminal book already around Europe. You can see he's had a pretty profound effect on cartoonists; he's being copied quite a lot.
In America, I know Coconino Press has published Gipi with the Ignatz collection, and Fantagraphics put out that beautiful one called The Innocents, which is really gorgeous, so we're continuing with Gipi's introduction into America. In Notes for a War Story, it's a semi-fictional place we're in, you're not sure if it's Italy, if it's the Balkans or the former Yugoslavia, but these young men are being drawn into militias and the characters they meet, it's quite an extraordinary book, and it should get some interesting reviews in the journalistic world.
One of the things that's interesting for me about talking about these two books concurrently is they have the foreign talents that are going to be part of First Second every season, but they also show the age ranges. Notes for a War Story is an adult conversation that surrounds that book; it's not children's fare. I think American Born Chinese is a funny thing, because it's gotten a lot of attention from the YA world, which is great and it's doing wonders for the book. But I was really pleased when just recently, the Chinese American Librarians' award went to American Born Chinese and that's an adult award, so we're getting a lot of libraries that are going to add extra copies in their adult section that already had it in the young adults, which I think is one of the interesting thing of graphic novels in general, they do blur age categories better than most formats.
Notes for a War Story and Kampung, when are those coming out?
I believe in October.
When we talked last time, you talked about doing two-two-two (six releases over three months), is that how you're doing it now?
Yes, we're staggering them now. We really wanted to get that shelf space in the first year, so our first two seasons were in blocks, but now we're doing two-two-two, and that's going to stay the case. You're going to see five is probably as small as our list will gets. '08 will be bigger as I think we're going to have seven or eight in each season. We have a lot in the pipeline.
Click here for part 2 of this two-part interview.
For other recent First Second news, see 'First Second Has Prince of Persia' and 'Interview with Gene Luen Yang and Mark Siegel'.