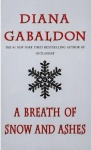 Del Rey has announced that it will publish an original story set in the world of Diana Gabaldon's Outlander series, written by Gabaldon herself and illustrated in full color by Hoang Nguyen. The new story will feature the key Outlander characters including (of course) Claire Randall and Jamie Fraser, and will be approximately 192 pages in length. Del Rey plans to publish the Outlander Graphic Novel in 2009 -- and Gabaldon's next Outlander prose novel, An Echo in the Bone, will also be released in 2009.
More than 15 million copies of the six Outlander novels have been sold so far and the novels have been translated into 19 languages. An Outlander movie is in the development stage and the novels have spawned a large worldwide online fan community.
As previously mentioned, Del Rey's graphic novel will be an original work, not just a graphic novel adaptation of an existing Outlander novel. Diana Gabaldon is writing the story herself -- and she has plenty of experience writing comics since earlier in her career she wrote numerous comic book scripts for Walt Disney. Hoang Nguyen, who is handling the art chores, is a veteran illustrator who has worked for Marvel (Alien Legion, Punisher War Zone), Dark Horse (Robocop movie adaptation) and videogame producer Namco (Dead to Rights).