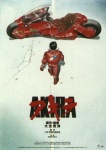 According to The Hollywood Reporter Warner Bros. and Leonardo DiCaprio are joining forces to produce a two-part live action adaptation of Katsuhiro Otomo's anime classic Akira. Ruairi Robinson has been tapped to direct the films from a screenplay/adaptation by Gary Whitta.
Akira has been in development in Hollywood as a live action film for years with producers such as Jon (Shampoo) Peters and Basil Iwanyk involved along with directors Steve Norrington and Pitof (see 'Akira Remake Planned'). Warner Bros. originally had the rights, then let them lapse, and finally reacquired them for the new Robinson project. The studio hopes to release the first Akira film in 2009.
In 1988 Katsuhiro Otomo directed the Akira anime, which was based on his manga. With its post-apocalyptic cyberpunk narrative and its incredibly fluid animation (the film utilized more than 160,000 cels), Akira demonstrated conclusively that animation wasn't just for kids and was one of the key films in the development of anime fandom in North America.