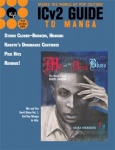 According to the ICv2 Guide #54: Anime/Manga, the launch of the "Shippuden" saga kept Naruto as the top manga property across channels through the first months of 2008, while the underlying manga market tries to find opportunities for growth amid some challenges. Publishers are seeking new opportunities this year in manga for adults; new venues such as school libraries and mass market retailers; and digital downloads, according to the report.
The effects of the over-all economy are also being felt in the manga market, as financing difficulties put Borders, the largest manga retailer in the country, in play, and housing declines impact spending in affected markets.
In the anime world, the worldwide decline in anime sales is leading to cutbacks in anime production in Japan, according to the anime market report. But there are some big anime DVD releases in 2008, and box sets are growing as the standard format for series, so the anime DVD business has shown some signs of life in the first couple of months of 2008.
The new ICv2 Guide also covers Pick Hits and other new manga, novel and art book, anime, and live action releases for July and August; the ICv2 Top 50 Manga Properties and the ICv2 Top 25 Anime Properties for the first months of 2008; the anime on TV report; and reviews.
Here are the top ten titles from the ICv2 top properties lists:
ICv2 Top Ten Manga Properties—Early 2008:
Naruto

Death Note

Bleach

Fruits Basket

Absolute Boyfriend

Fullmetal Alchemist

Tsubasa

Pokemon

Ouran H.S. Host Club
ICv2 Top Ten Anime Properties—Early 2008:
Appleseed Ex Machina

Dragon Ball Z

Naruto

Devil May Cry

Death Note

Pokemon

Witchblade

Bleach

Fullmetal Alchemist

For information on the release of ICv2 Guide #54: Anime/Manga, and information on how to get the ICv2 Guide, see "ICv2 Releases 'ICv2 Guide #54: Anime/Manga."