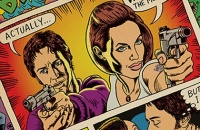 In a major three-page article in the June 30th edition of Time Magazine, Time's Rebecca Winters Keegan anoints graphic novels "Hollywood's Newest Goldmine." Starting from the premise that "graphic novels—long comic books for grownups—have always had mostly cult appeal," Keegan demonstrates how A-list superheroes such as Spider-Man and the X-Men rescued the comic book film genre from the nadir of Joel Schumacher's disastrous 1997, nipples-on-the-rubber-batsuit, Batman and Robin and made "Hollywood's appetite for comics-fueled material insatiable."
It would be easy to quibble with Keegan's appropriation of the "toney term" graphic novel for projects that almost universally appeared first as comic books, and it should be noted that over its 20 years in print Watchmen has racked up bestseller rather than cult hit sales numbers—but this article can only be good news and great publicity for the next round of comic-inspired movies including Wanted, whose creator Mark Millar is quoted throughout and whose stars Angelina Jolie and James MacAvoy are featured in a cool comic-inspired illustration, as well as for Hellboy II, The Dark Knight, The Spirit, and Watchmen all of which are discussed at some length.
One cool feature of the article is a sidebar feature in which "four famous comics junkies" pick the graphic novels they would like to see on the big screen. Frank Miller picks Jeff Smith's Bone, Mark Millar chooses Robert Kirkman's The Walking Dead, Kevin Smith opts for Miller's The Dark Knight Returns, and Dark Horse's Mike Richardson goes for Paul Chadwick's Concrete.