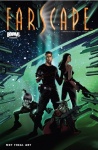 Rockne S. O'Bannon, who created the Farscape television series, will be writing Boom! Studios' new Farscape comic book series, due out late this year. O'Bannon's Farscape comic book series, in his words, "starts off directly where the Peacekeeper Wars miniseries left us. It's like we're finally getting to experience Season Five of Farscape. Not only that, but the stories in the ongoing comic series will completely tie into the upcoming Farscape webisodes."
Boom's announcement that O'Bannon will be writing the Farscape comic continues a very successful trend, perhaps most notable in the popularity of Joss Whedon's Buffy Season 8 released by Dark Horse (and now also by the Angel comic from IDW), in which cancelled TV series get a new life in comic book form. There is little doubt that Farscape, which appeared on the Sci Fi Channel from 1998-2004 and was named by TV Guide as one of televisions "Best Cult Shows Ever" has a devoted following.
O'Bannon noted that the Farscape TV series was always constrained by the limitations of story length, logistics, and budget, none of which apply in the comic book medium, and he described the comic book iteration of the science fiction saga as "Farscape Unrestrained." One of the areas he'd wanted to explore on the TV series, Rygel's home world of Hyneria, was simply not possible given the limitations of television production, but Hyneria will be one of the first places visited in the comic book series.