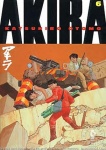 The Hollywood Reporter has reported that a remake of anime classic Akira is planned by Warner Bros., with Steve Norrington, who directed Blade I, slated to write and direct. Jon Peters is producing. This marks the third major announcement of a Hollywood anime remake in the last month. The first two were DBZ (see 'Fox Plans Live Action DBZ') and Ninja Scroll (see 'Ninja Scroll Crosses the Threshold').
Akira has been selling well in pop culture stores both in DVD (see 'Top Anime Stories of 2001') and manga collections (see 'Dark Horse Releases Retro Manga Sales') over the last year. That indicates a loyal built-in audience for the film and has contributed to a considerable amount of buzz around the property, two prime ingredients for a successful film. As is the case with all of the Hollywood anime remakes, the key question is whether the new rendition can both satisfy the otaku, who have supported the property in the past, and at the same time appeal to a new broader audience.
Norrington is also scheduled to direct the League of Extraordinary Gentlemen film, which appears to have replaced Ghost Rider in his schedule.

(see 'League Eclipses Ghost Rider').