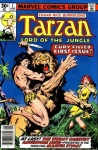 The Hollywood trades are reporting that director Steven Sommers (The Mummy, The Jungle Book) is in negotiations with Warner Bros. to helm a new screen version of Edgar Rice Burroughs' classic Tarzan character. Sommers will co-write the screenplay for the new Tarzan film with Stuart Beattie (Collateral, Pirates of the Caribbean). Sommers and Beattie have just finished shooting on G.I. Joe: Rise of Cobra, which Sommers directed and co-wrote with Beattie.
Nearly two years ago Guillermo del Toro (Hellboy, Pan's Labyrinth) was announced as the director of the new Tarzan film (see "New Tarzan Movie in the Works"), which was to be written by John Collee (Master and Commander: The Far Side of the World), but del Toro will be a little busy himself on the far side of the world for the next four years directing the two-part adaptation of The Hobbit in New Zealand.
Sommers and Beattie are promising a new take on ERB's "Lord of the Jungle" and they are not basing their film on any of Burroughs' two dozen Tarzan novels or any of the previous Tarzan films.