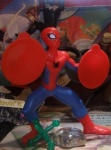 The Spectacular Spider-Man animated cartoon series, which debuted on the Saturday morning 4Kids block on the CW network, is moving to the Disney XD cable channel (formerly Toon Disney), where it will premiere on Monday, March 23rd at 7:30 pm. The switch to Disney XD is being supported by a Happy Meal promotion at more than 15,000 McDonald's restaurants in North America that is set to run through March 26th.
The first episodes shown on Disney XD will be rebroadcasts of episodes from the first season that have already aired on the CW, but new episodes from Season 2 will begin airing on Disney XD this summer.
The Happy Meals promotion involves eight different plastic Spectacular Spider-Man figures including Spider-Man Suction Cup, Doctor Octopus, Spider-Man Swinging, Venom, Spider-Man Launcher, Green Goblin, Spider-Man Crawling, and Sandman. The Happy Meal Spectacular Spider-Man promotion will rollout to another 10,000 McDonalds restaurants in Latin America, Europe, Australia, New Zealand, Asia Pacific and the Middle East during March, April and May.