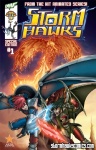 DMF and Bleach Studios will launch a series of comics based on the Storm Hawks animated series this summer. A Storm Hawks Special Edition Comic Book will be sold at cons this summer, with a release to the trade in September. An ongoing series of graphic novels is planned.
The Special Edition will feature three Storm Hawks stories and pin-ups from Mike Kunkel, Sean "Cheeks" Galloway, Marcio Takara, Sanford Greene, Marcus To, Randy Green, and more.
The show has aired on Cartoon Network (and TYV in Canada) and is currently in its second season.