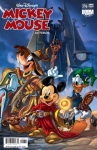 BOOM! Studios is in the midst of launching its four monthly Disney Standards comics (see "BOOM! Studios Gets Duck Books"), titles based on the ducks, mice, and other anthropomorphic characters with which Disney is most closely identified: Mickey Mouse and Friends, Walt Disney Comics & Stories, Donald Duck and Friends, and Uncle Scrooge. The comics, according to BOOM! CEO Ross Richie, are targeted at an elementary school audience, evenly divided between boys and girls. The package is a 24- or 32-page full color comic, printed on matte paper, for $2.99.
According to Richie, the package was chosen to make it more kid-friendly. "We think that the material will be more accessible to a younger-skewing audience. We have a mass market newsstand deal with Kable, who distributes Archie to the mass market. If you look at the price points of things like Sonic the Hedgehog and the Archie stuff, we're priced in their category. I think it's every publisher's heartfelt desire to publish a comic book that maybe is somebody's first comic and it definitely think that's our focus with these characters, that a kid will see a comic with Mickey Mouse or Donald Duck and get excited about it and buy it.
Richie pointed to the extremely high recognition factor for the Disney Standard characters among kids as an indication of the size of the opportunity. "I know there's a 98% recognition factor for Mickey Mouse for kids ages 3 to 11," Richie said. "And Disney did $32 billion in merchandising and licensing last year and a big share of that is Donald Duck and Mickey Mouse. They're mass market icons that people recognize when they go into Target and Wal-Mart and all of the big box stores. I think people are familiar with the characters from that. They have a robust DVD business as well, so people are watching those, and watching clips on YouTube."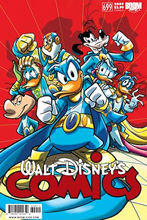 We asked Richie how heavily the new titles were being launched into the mass market.
"We're targeting things really specifically, and I think it's very emblematic of my business approach as well as Boom's business approach, which is to try something new but not to go whole hog, not to go crazy," he said.
"If I told you the number of units we shipped the first month, you'd be shocked at how few were shipped in.
What we did was take the tracking information we got from Kable and we used that to cull out the accounts where it was very obvious there was no foot traffic.
The example would be, if these books go into a liquor store, clearly there's not going to be kid foot traffic or family friendly material there. So we'd nix a location like that.
Or maybe there's a drugstore, but there's just not a lot of kids going in there and we would then remove that location.
And other accounts as they saw this material being carried and having success would come in and sign up and we've grown the carriage across Kable's distribution through these different accounts a thousand copies at a time, just expanding and expanding and expanding, and trying to do it
in a very targeted, specific, and smart way."
Book chains are among the first Kable customers to get BOOM!'s new Disney titles, which are also expected to go into the Disney retail chain and the stores at Disney's theme parks. They'll follow other kid-oriented titles into those channels.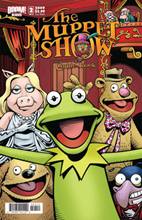 "I just got confirmation this morning of the first order from the Disney stores," Richie told us last week.
"They're going to be carrying our
Toy Story
and
Cars
graphic novels.
And our
Muppets
comics have been ordered into the theme parks.
It's really exciting--we've gotten a lot of positive response from Disney internally at our ability to get into these venues.
They're known to be challenging areas of retail.
Disney's a huge, sprawling empire and a lot of people internally have really wanted to see comics go into those venues, but that's something that historically hasn't happened.
So they were pretty excited to hear that we've had success in that arena."
Editorial material for the comic line is also being selected based on its appeal to kids, especially by crossing over categories. Cross-category storylines include Wizards of Mickey (fantasy), Disney Ultraheroes (superheros), and Double Duck (secret agent) all developed by Disney in Italy.
BOOM!'s multiple cover strategy is counter-intuitive on kids' comics, but Richie argues that it's not about creating a collectible, it's about increasing the odds of offering a cover that appeals to a particular customer. "We're not expecting kids to buy both covers," he said. "When you put two covers out there, you';re giving a consumer a choice. You might not hit them with the cover A design, but with the cover B design you might hit something they love. It gives us an opportunity to appeal to different kinds of tastes."
The stories are being published in story arcs that will allow collection into trade paperbacks of 112 to 150 pages, in a 6" x 9" format, the same format BOOM! is using for its Pixar collections. BOOM! also plans high-end hardcover collections of classic material.