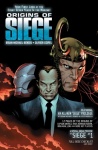 The skip week in comic stores at the end of 2009, created when Diamond Comic Distributors announced that it would not do a distribution the week between Christmas and New Year's, is being used as a promotional opportunity by some.
Marvel's New Year's Eve Party events on Wednesday, December 30th will provide free giveaways, including Origins of Siege, a comic prologue to the 2010 Brian Michael Bendis event; a 2010 Marvel Super Hero Calendar, and exclusive Avengers ID Cards.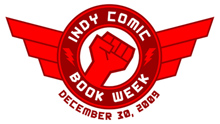 Announced earlier is Indy Comic Week, an effort to fill the gap with comics from independent publishers, distributed through channels other than Diamond.
This promotion has its champions; some major pop culture stores are running promotions in conjunction with the event, including The Source Comics and Games in our neck of the woods in Falcon Heights, Minnesota.
So while there won't be as much new product as there normally is the week between Christmas and New Year's (which typically collects the not-insignficant array of merchandise that didn't quite make it out before the holiday), there will be events to draw fans into stores.