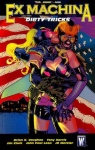 These are estimates of the sales on graphic novels by Diamond U.S. to comic specialty stores during Decemebr 2009.
For an overview and analysis of comic sales in December, see "'Blackest Night' Stays on Top."
For an analysis of the dollar trends in December, see "Comics, Graphic Novels Slip in December."
For our estimates of actual sales by Diamond
U.S.
from comic specialty stores on comic books shipped during December, see "
Top 300 Comics Actual--December 2009
."
TOP 300 GNs -- December 2009

Rank

Index

Title

Price

Pub

Est.Qty

1

7.64

EX MACHINA TP VOL 08 DIRTY TRICKS (MR)

$12.99

DC

5,033

2

6.25

DEADPOOL TP VOL 02 DARK REIGN

$14.99

MAR

4,121

3

5.58

STAR WARS CLONE WARS TP VOL 04 COLOSSUS OF DESTINY

$7.99

DAR

3,680

4

5.19

IRREDEEMABLE TP VOL 02

$16.99

BOO

3,423

5

4.70

BLEACH TP VOL 29

$9.99

VIZ

3,097

6

4.32

BATMAN THE CAT AND THE BAT TP

$12.99

DC

2,847

7

4.09

MARVEL ZOMBIES RETURN HC

$24.99

MAR

2,694

8

3.73

ROCKETEER COMPLETE COLLECTION HC VOL 01

$29.99

IDE

2,457

9

3.71

GOON TP VOL 06 CHINATOWN & MYSTERY MR WICKER

$15.95

DAR

2,448

10

3.60

ULTIMATUM X-MEN FANTASTIC FOUR TP

$19.99

MAR

2,375

11

3.54

SECRET WARRIORS TP VOL 01 NICK FURY AGENT OF NOTHING

$16.99

MAR

2,333

12

3.49

LEGEND OF ZELDA GN VOL 08

$7.99

VIZ

2,297

13

3.46

X-FORCE CABLE MESSIAH WAR TP

$34.99

MAR

2,283

14

3.46

STAR WARS CLONE WARS TP VOL 01 SLAVES OF REPUBLIC

$9.95

DAR

2,278

15

3.46

STAR WARS LEGACY TP VOL 07 STORMS

$17.95

DAR

2,278

16

3.21

ULTIMATUM TP MARCH ON ULTIMATUM

$19.99

MAR

2,114

17

3.20

TRANSMETROPOLITAN TP VOL 05 LONELY CITY NEW ED (MR)

$14.99

DC

2,107

18

3.16

PUNISHER FRANK CASTLE MAX TP WELCOME TO BAYOU (MR)

$14.99

MAR

2,085

19

2.98

SHOWCASE PRESENTS WONDER WOMAN TP VOL 03

$17.99

DC

1,965

20

2.98

TEEN TITANS DEATHTRAP TP

$14.99

DC

1,963

21

2.93

GREEN LANTERN CHRONICLES TP VOL 02

$14.99

DC

1,932

22

2.93

STAR WARS THRAWN TRILOGY HC VOL 01

$34.95

DAR

1,931

23

2.91

X-MEN SPIDER-MAN TP

$14.99

MAR

1,918

24

2.89

THOR TP AGES OF THUNDER

$19.99

MAR

1,907

25

2.87

TALES FROM WONDERLAND TP VOL 02

$12.99

ZEN

1,893

26

2.87

GANTZ TP VOL 08 (MR)

$12.99

DAR

1,892

27

2.87

X-INFERNUS TP

$19.99

MAR

1,890

28

2.85

DARK REIGN SINISTER SPIDER-MAN TP

$16.99

MAR

1,878

29

2.84

CLASSIC GI JOE TP VOL 06

$19.99

IDE

1,873

30

2.83

FANTASTIC FOUR TP MASTERS OF DOOM

$19.99

MAR

1,862

31

2.81

YOTSUBA & ! GN VOL 07

$10.99

HAC

1,849

32

2.78

MMW NICK FURY AGENT OF SHIELD HC VOL 02

$54.99

MAR

1,834

33

2.73

AMORY WARS TP VOL 02 SECOND STAGE TURBINE BLADE

$14.99

IMA

1,802

34

2.71

SUPERMAN SUPERGIRL MAELSTROM TP

$12.99

DC

1,783

35

2.65

SUPERGIRL COSMIC ADVENTURES IN THE EIGHTH GRADE TP

$12.99

DC

1,747

36

2.63

EX MACHINA DELUXE EDITION HC VOL 02 (MR)

$29.99

DC

1,732

37

2.59

X-FORCE PREM HC VOL 03 NOT FORGOTTEN

$19.99

MAR

1,706

38

2.55

ANITA BLAKE PREM HC BOOK 02 LC NECROMANCER

$19.99

MAR

1,680

39

2.54

BATMAN THE WRATH TP

$17.99

DC

1,672

40

2.49

WALKING DEAD TP VOL 01 DAYS GONE BYE

$9.99

IMA

1,641

41

2.44

DARK REIGN YOUNG AVENGERS TP

$16.99

MAR

1,610

42

2.35

STREET FIGHTER TP VOL 05 KICK IT INTO TURBO

$13.99

UDO

1,552

43

2.35

MINI MARVELS TP ULTIMATE COLLECTION GN

$19.99

MAR

1,546

44

2.34

FRINGE TP

$19.99

DC

1,540

45

2.30

NGE SHINJI IKARI RAISING PROJECT TP VOL 03

$9.99

DAR

1,517

46

2.28

SPAWN ORIGINS TP VOL 03

$14.99

IMA

1,500

47

2.27

BATMAN THE CULT TP

$19.99

DC

1,493

48

2.25

CHRONICLES OF KULL TP VOL 01 KING COMES RIDING

$18.95

DAR

1,486

49

2.24

MMW GOLDEN AGE SUB-MARINER HC VOL 03

$59.99

MAR

1,478

50

2.23

CHEW TP VOL 01 (MR)

$9.99

IMA

1,472

51

2.21

AGENTS OF ATLAS TP DARK REIGN

$19.99

MAR

1,458

52

2.21

ROCKETEER COMPLETE COLLECTION DLX ED HC VOL 01

$75.00

IDE

1,456

53

2.20

SKY DOLL TP VOL 01 (MR)

$19.99

MAR

1,452

54

2.20

HIDEYUKI KIKUCHIS VAMPIRE HUNTER D GN VOL 04

$13.95

DIG

1,449

55

2.18

ROSARIO VAMPIRE GN VOL 10

$9.99

VIZ

1,435

56

2.17

DARK REIGN HOOD TP

$19.99

MAR

1,432

57

2.14

BOOSTER GOLD BLUE AND GOLD TP

$14.99

DC

1,413

58

2.13

MMW UNCANNY X-MEN TP VOL 02

$24.99

MAR

1,406

59

2.13

SPIDER-MAN RED-HEADED STRANGER PREM HC

$19.99

MAR

1,402

60

2.13

MARVEL ADVENTURES SPIDER-MAN TP VOL 14 THWIP DIGEST

$9.99

MAR

1,401

61

2.12

MS MARVEL TP VOL 07 DARK REIGN

$19.99

MAR

1,397

62

2.08

MARVELS TP

$24.99

MAR

1,372

63

2.07

TERRA TP

$14.99

DC

1,362

64

2.05

BLACK PANTHER TP DEADLIEST OF SPECIES

$15.99

MAR

1,348

65

2.03

DARK REIGN UNDERSIDE TP

$24.99

MAR

1,338

66

2.00

UNCANNY X-MEN FIRST CLASS TP HATED AND FEARED GN

$14.99

MAR

1,319

67

2.00

ONE PIECE TP VOL 23

$7.95

VIZ

1,316

68

1.98

CHRONICLES OF SOLOMON KANE TP VOL 01

$18.95

DAR

1,303

69

1.95

ESSENTIAL X-FACTOR TP VOL 03

$19.99

MAR

1,287

70

1.93

INU YASHA TP VOL 43

$9.99

VIZ

1,275

71

1.92

FEAR AGENT TP VOL 05 I AGAINST I

$14.95

DAR

1,265

72

1.89

IRREDEEMABLE TP VOL 01

$9.99

BOO

1,246

73

1.89

ATOMIC ROBO TP VOL 03

$18.95

RED

1,245

74

1.88

GREEN ARROW BLACK CANARY ENEMIES LIST TP

$17.99

DC

1,240

75

1.88

POPEYE HC VOL 04 PLUNDER ISLAND

$29.99

FAN

1,238

76

1.82

365 SAMURAI & FEW BOWLS OF RICE SC

$16.95

DAR

1,202

77

1.81

ART OF STEVE DITKO HC

$29.99

IDE

1,196

78

1.81

MIGHTY TP VOL 01

$17.99

DC

1,191

79

1.81

NEW MUTANTS PREM HC RETURN OF LEGION

$19.99

MAR

1,190

80

1.80

STREET FIGHTER LEGENDS TP VOL 02 CHUN LI

$12.95

UDO

1,187

81

1.79

JLA YEAR ONE TP

$19.99

DC

1,182

82

1.77

RUNAWAYS GOOD DIE YOUNG TP

$16.99

MAR

1,169

83

1.77

WOLVERINE WEAPON X 100 PROJECT TP

$12.99

THE

1,169

84

1.76

BATMAN DARK KNIGHT ARCHIVES HC VOL 06

$59.99

DC

1,160

85

1.76

TOMB OF DRACULA OMNIBUS HC VOL 02

$99.99

MAR

1,158

86

1.74

GRAVEL TP VOL 02 THE MAJOR SEVEN (MR)

$19.99

AVA

1,144

87

1.73

WHAT IF CLASSIC TP VOL 06

$29.99

MAR

1,143

88

1.70

THUNDERBOLTS PREM HC WIDOWMAKER

$19.99

MAR

1,120

89

1.68

RANN THANAGAR HOLY WAR TP VOL 02

$19.99

DC

1,110

90

1.67

ONE MODEL NATION GN

$17.99

IMA

1,103

91

1.65

DOCTOR WHO THROUGH TIME AND SPACE TP

$19.99

IDE

1,090

92

1.65

TRANSFORMERS ANIMATED TP VOL 12

$7.99

IDE

1,088

93

1.64

SIMON DARK TP VOL 03 THE GAME OF LIFE

$17.99

DC

1,084

94

1.63

NAOKI URASAWA 20TH CENTURY BOYS GN VOL 06

$12.99

VIZ

1,075

95

1.57

SUB-MARINER TP DEPTHS

$19.99

MAR

1,033

96

1.54

DAREDEVIL OMNIBUS HC VOL 02 BY BENDIS & MALEEV

$99.99

MAR

1,018

97

1.54

GUARDIANS OF GALAXY PREM HC VOL 03 WAR OF KINGS BK 02

$24.99

MAR

1,014

98

1.51

PUNISHER DEAD END PREM HC

$24.99

MAR

992

99

1.49

FINDING NEMO REEF RESCUE TP

$9.99

BOO

982

100

1.46

MORE THAN COMPLETE ACTION PHILOSOPHERS TP

$24.99

EVI

964

101

1.44

X-FACTOR OVERTIME PREM HC

$24.99

MAR

950

102

1.44

WALKING DEAD TP VOL 10 WHAT WE BECOME

$14.99

IMA

946

103

1.43

FABLES TP VOL 01 LEGENDS IN EXILE

$9.99

DC

943

104

1.40

DARK REIGN SKRULL KILL KREW TP

$19.99

MAR

920

105

1.39

LITTLE LULU TP VOL 21 MISS FEENYS FOLLY & STORIES

$14.95

DAR

918

106

1.38

DEAD AT 17 AFTERBIRTH TP VOL 01

$12.99

IMA

909

107

1.35

VIXEN RETURN OF THE LION TP

$17.99

DC

893

108

1.34

WOLVERINE HC OLD MAN LOGAN

$34.99

MAR

885

109

1.33

GENEXT UNITED TP

$16.99

MAR

879

110

1.33

CLASSIC TRANSFORMERS TP VOL 05

$19.99

IDE

875

111

1.23

MYSPACE DARK HORSE PRESENTS TP VOL 04

$19.95

DAR

812

112

1.20

ASTERIX HC ASTERIX & OBELIX BIRTHDAY

$14.95

STE

788

113

1.19

RUNAWAYS TRUE BELIEVERS PREM HC

$19.99

MAR

784

114

1.18

MS MARVEL PREM HC VOL 08 WAR OF MARVELS

$19.99

MAR

776

115

1.17

HOUSE OF M HC SPIDER-MAN FANTASTIC FOUR X-MEN

$39.99

MAR

773

116

1.16

YU GI OH R GN VOL 02

$9.99

VIZ

764

117

1.15

WATCHMEN TP

$19.99

DC

761

118

1.13

GREEN LANTERN AGENT ORANGE HC

$19.99

DC

742

119

1.12

BATMAN DARK KNIGHT RETURNS TP

$14.99

DC

737

120

1.11

FABLES TP VOL 12 THE DARK AGES (MR)

$17.99

DC

731

121

1.10

YELLOW II GN VOL 01 (MR)

$6.95

DIG

722

122

1.10

INCOGNITO TP (MR)

$18.99

MAR

722

123

1.10

INCREDIBLE HERCULES PREM HC MIGHTY THORCULES

$19.99

MAR

722

124

1.09

EXILES ULTIMATE COLLECTION TP BOOK 03

$34.99

MAR

716

125

1.08

ELECTROPOLIS TP

$14.95

DAR

715

126

1.08

Y THE LAST MAN TP VOL 01 UNMANNED

$12.99

DC

709

127

1.06

V FOR VENDETTA TP (MR)

$19.99

DC

699

128

1.06

KODT BUNDLE OF TROUBLE TP VOL 29

$12.99

KEN

699

129

1.06

UNTHINKABLE TP

$19.99

BOO

696

130

1.05

SAMURAI DEEPER KYO GN VOL 35-36

$14.99

RAN

693

131

1.05

BEANWORLD HC VOL 03 REMEMBER HERE

$19.95

DAR

690

132

1.05

NIGHTMARE WORLD TP VOL 01 13 TALES OF TERROR (IMAGE ED)

$15.99

IMA

689

133

1.04

INCREDIBLE HERCULES TP DARK REIGN

$14.99

MAR

688

134

1.04

TROJAN WAR PREM HC

$19.99

MAR

683

135

1.03

WONDERFUL WIZARD OZ HC

$29.99

MAR

677

136

1.02

BOYS DEFINITIVE ED HC VOL 02 W/ SLIPCOVER (MR)

$75.00

DYN

671

137

1.01

ALEC SC YEARS HAVE PANTS LIFE SIZE OMNIBUS

$35.00

TOP

664

138

1.00

DOCTOR GRORDBORT PRESENTS VICTORY HC

$19.95

DAR

662

139

1.00

PREACHER TP VOL 01 GONE TO TEXAS NEW EDITION (MR)

$14.99

DC

662

140

1.00

SANDMAN TP VOL 01 PRELUDES & NOCTURNES

$19.99

DC

661

141

1.00

ATOMIC ROBO TP VOL 01 NEW PTG

$18.95

RED

660

142

1.00

BRIAN MICHAEL BENDIS 10 YEARS AT MARVEL TP

$34.99

MAR

658

143

0.98

DOGS TP VOL 02 (MR)

$12.99

VIZ

648

144

0.97

OUR KINGDOM ARABIAN NIGHTS GN (MR)

$12.95

DIG

641

145

0.97

BATTLESTAR GALACTICA FINAL FIVE TP

$14.99

DYN

641

146

0.96

MIRRORS EDGE TP

$19.99

DC

636

147

0.96

ASTERIOS POLYP GN

$29.95

RAN

636

148

0.96

WALKING DEAD TP VOL 02 MILES BEHIND US (NEW PTG)

$14.99

IMA

634

149

0.96

BOYS TP VOL 05 HEROGASM (MR)

$19.99

DYN

631

150

0.93

TICK COLOR SERIES COMPLETE WORKS TP VOL 01

$34.95

NEW

615

151

0.93

BOYS HC LTD ED VOL 03 GOOD FOR THE SOUL (MR)

$29.99

DYN

613

152

0.92

BATTLESTAR GALACTICA CYLON WAR TP

$14.99

DYN

608

153

0.92

WALKING DEAD TP VOL 09 HERE WE REMAIN (MR)

$14.99

IMA

608

154

0.91

BOYS HC LTD ED VOL 04 WE GOTTA GO NOW (MR)

$29.99

DYN

599

155

0.90

BATMAN BATTLE FOR THE COWL HC

$19.99

DC

595

156

0.89

FABLES TP VOL 02 ANIMAL FARM

$12.99

DC

585

157

0.87

EMMA VOL 10

$9.99

DC

571

158

0.86

CRIMINAL MACABRE CELL BLOCK 666 TP

$12.99

DAR

568

159

0.84

POKEMON ADVENTURES TP VOL 04 2ND ED

$7.99

VIZ

556

160

0.83

GREEN LANTERN REBIRTH TP

$14.99

DC

550

161

0.83

EXCEL SAGA TP VOL 20

$9.99

VIZ

550

162

0.83

ARKHAM ASYLUM ANNIVERSARY ED SC (MR)

$17.99

DC

546

163

0.83

COMPLETE LITTLE ORPHAN ANNIE HC VOL 04

$49.99

IDE

546

164

0.83

DOT HACK LEGEND O/T TWILIGHT COMP COL TP

$19.99

TOK

544

165

0.82

ART OF EMILY THE STRANGE HC

$22.95

DAR

543

166

0.82

OLYMPUS TP VOL 01

$14.99

IMA

542

167

0.82

CIVIL WAR TP

$24.99

MAR

541

168

0.82

EYESHIELD 21 TP VOL 29

$9.99

VIZ

541

169

0.82

BATMAN HUSH COMPLETE TP

$24.99

DC

539

170

0.81

FINAL CRISIS HC

$29.99

DC

537

171

0.81

BOYS TP VOL 04 WE GOTTA GO NOW (MR)

$19.99

DYN

536

172

0.81

BATMAN THE LONG HALLOWEEN TP

$19.99

DC

534

173

0.81

MARVEL ILLUSTRATED TP GN KIDNAPPED

$14.99

MAR

534

174

0.81

FANTASTIC WORLDS OF FRANK FRAZETTA HC VOL 02

$29.99

IMA

532

175

0.80

WALKING DEAD TP VOL 03 SAFETY BEHIND BARS

$14.99

IMA

529

176

0.80

GREEN LANTERN SINESTRO CORPS WAR TP VOL 01

$14.99

DC

527

177

0.80

NOBLE CAUSES TP VOL 09

$14.99

IMA

526

178

0.79

WINTERWORLD HC

$19.99

IDE

522

179

0.79

GREEN LANTERN SINESTRO CORPS WAR TP VOL 02

$14.99

DC

520

180

0.78

AZUMANGA DAIOH COLL ED

$24.99

HAC

517

181

0.78

MMW UNCANNY X-MEN TP VOL 01

$24.99

MAR

514

182

0.78

PRINCESS AI GN VOL 02 THE PRISM OF MIDNIGHT DAWN

$10.99

TOK

513

183

0.77

DEAD SHE SAID TP

$17.99

IDE

507

184

0.76

Y THE LAST MAN TP VOL 02 CYCLES (MR)

$12.99

DC

503

185

0.76

BTVS SEASON 8 TP VOL 05 PREDATOR & PREY

$15.95

DAR

502

186

0.76

PANDORA HEARTS GN VOL 01

$10.99

HAC

501

187

0.76

FABLES TP VOL 03 STORYBOOK LOVE (MR)

$14.99

DC

499

188

0.76

DEMONS OF SHERWOOD GN

$19.99

IDE

498

189

0.75

BUTTERFLIES FLOWERS GN VOL 01 (MR)

$9.99

VIZ

492

190

0.75

OOKU INNER CHAMBERS GN VOL 02 (MR)

$12.99

VIZ

492

191

0.74

UMBRELLA ACADEMY TP VOL 01 APOCALYPSE SUITE

$17.95

DAR

488

192

0.73

EUREKA SEVEN MANGA COLLECTION SC VOL 01

$19.99

BAN

482

193

0.73

ITAZURA NA KISS GN VOL 01

$16.95

DIG

481

194

0.72

ENGINEER HC

$9.95

ARC

477

195

0.72

FARSCAPE HC VOL 03 GONE AND BACK

$24.99

BOO

477

196

0.72

100 BULLETS TP VOL 01 FIRST SHOT LAST CALL

$9.99

DC

476

197

0.72

BATMAN RIP DELUXE EDITION HC

$24.99

DC

476

198

0.72

SAYONARA ZETSUBO SENSEI GN VOL 04

$10.99

RAN

476

199

0.72

SCOURGE OF GODS PREM HC FALL (MR)

$24.99

MAR

475

200

0.72

WAR OF KINGS HC

$39.99

MAR

474

201

0.71

ELECTRIC HANDS GN

$12.95

DIG

465

202

0.71

PTA NIGHT HC

$12.99

IMA

465

203

0.70

GOGO MONSTER GN

$27.99

VIZ

464

204

0.70

COMPLETE CRUMB COMICS SC VOL 12 CURR PTG

$19.99

FAN

463

205

0.70

YELLOW OMNIBUS GN VOL 01 (MR)

$19.95

DIG

461

206

0.70

BAMBOO BLADE TP VOL 03

$10.99

HAC

460

207

0.70

RUROUNI KENSHIN VIZBIG ED GN VOL 08

$17.99

VIZ

459

208

0.69

BOYS TP VOL 01 NAME OF THE GAME (MR)

$16.99

DYN

452

209

0.68

BATMAN YEAR ONE DELUXE SC

$14.99

DC

451

210

0.68

JOKER HC

$19.99

DC

449

211

0.67

WALKING DEAD TP VOL 04 HEARTS DESIRE (NEW PTG)

$14.99

IMA

441

212

0.67

RETURN OF KING DOUG HC

$14.95

ONI

440

213

0.66

SUBLIFE GN VOL 02

$7.99

FAN

438

214

0.66

DETROIT METAL CITY GN VOL 03 (MR)

$12.99

VIZ

437

215

0.66

STREET FIGHTER TP VOL 01 NEW ED

$12.95

UDO

434

216

0.66

LEGION PROPHETS GN

$17.99

IDE

433

217

0.65

TRANSMETROPOLITAN TP VOL 01 BACK ON THE STREET (MR)

$14.99

DC

429

218

0.65

BAKUGAN BATTLE BRAWLERS GN VOL 04 DAN & DRAGO

$7.99

RAN

429

219

0.65

GREEN LANTERN CORPS EMERALD ECLIPSE HC

$24.99

DC

427

220

0.64

WALKING DEAD TP VOL 05 BEST DEFENSE (NEW PTG)

$14.99

IMA

424

221

0.63

NORTH WORLD GN VOL 03 OTHER SAGAS

$11.95

ONI

418

222

0.63

CHARLEYS WAR HC VOL 06 UNDERGROUND & OVER THE TOP

$19.95

TIT

418

223

0.63

BTVS SEASON 8 TP VOL 01 LONG WAY HOME

$15.99

DAR

417

224

0.63

FABLES TP VOL 04 MARCH OF THE WOODEN SOLDIERS (MR)

$17.99

DC

417

225

0.63

MOYASIMON GN VOL 01

$10.99

RAN

416

226

0.63

DEFINITIVE PRINCE VALIANT COMPANION SC

$24.99

FAN

415

227

0.63

MODESTY BLAISE TP VOL 16 SCARLET MAIDEN

$19.95

RAN

414

228

0.63

DEADPOOL TP VOL 01 SECRET INVASION

$14.99

MAR

412

229

0.62

LIFE AND TIMES OF SAVIOR 28 TP VOL 01

$19.99

IDE

411

230

0.62

GREAT ANTI WAR CARTOONS

$24.99

FAN

406

231

0.61

DARK AVENGERS TP VOL 01 ASSEMBLE

$19.99

MAR

405

232

0.61

Y THE LAST MAN TP VOL 03 ONE SMALL STEP (MR)

$12.99

DC

402

233

0.61

MISERY OBSCURA PHOTOGRAPHY OF EERIE VON HC

$29.95

DAR

401

234

0.61

KINGDOM COME TP NEW EDITION

$17.99

DC

401

235

0.61

BTVS SEASON 8 TP VOL 04 TIME OF YOUR LIFE

$15.99

DAR

400

236

0.61

FABLES TP VOL 11 WAR AND PIECES (MR)

$17.99

DC

400

237

0.61

MIXED VEGETABLES GN VOL 06

$9.99

VIZ

400

238

0.60

SANDMAN TP VOL 02 THE DOLLS HOUSE

$19.99

DC

393

239

0.60

WALKING DEAD TP VOL 08 MADE TO SUFFER (MR)

$14.99

IMA

393

240

0.59

CROSSING EMPTY QUARTER & OTHER STORIES HC

$24.95

DAR

388

241

0.58

CONNIE TP VOL 01 CAPTIVES OF SPACE PIRATES

$11.95

TON

384

242

0.58

PREACHER TP VOL 02 UNTIL THE END OF THE WORLD NEW EDITION (M

$14.99

DC

383

243

0.58

LOVE BUZZ GN

$14.95

ONI

383

244

0.58

PRINCESS RESURRECTION GN VOL 07

$11.99

RAN

382

245

0.58

DEADPOOL CLASSIC TP VOL 03

$29.99

MAR

381

246

0.58

SCALPED TP VOL 01 INDIAN COUNTRY (MR)

$9.99

DC

380

247

0.58

WALKING DEAD TP VOL 06 SORROWFUL LIFE (MR)

$12.99

IMA

380

248

0.58

SCOTT PILGRIM GN VOL 01 SP PRECIOUS LITTLE LIFE (MAY042851)

$11.95

ONI

380

249

0.57

ALL STAR SUPERMAN TP VOL 01

$12.99

DC

377

250

0.57

BATMAN THE KILLING JOKE SPECIAL ED HC

$17.99

DC

375

251

0.57

GREEN LANTERN RAGE OF THE RED LANTERNS HC

$24.99

DC

375

252

0.57

WALKING DEAD TP VOL 07 THE CALM BEFORE (MR)

$12.99

IMA

375

253

0.56

ABSOLUTE SANDMAN HC VOL 02 (MR)

$99.00

DC

366

254

0.55

GESTALT GN VOL 04

$9.99

VIZ

364

255

0.55

FABLES TP VOL 05 THE MEAN SEASONS (MR)

$14.99

DC

362

256

0.55

ORIGINAL JOHNSON GN VOL 01

$19.99

IDE

362

257

0.54

DEAD RUN TP VOL 01

$16.99

BOO

358

258

0.54

PREACHER TP VOL 03 PROUD AMERICANS NEW EDITION (MR)

$14.99

DC

357

259

0.54

COMPLETE CRUMB COMICS SC CURR PTG VOL 07

$19.99

FAN

357

260

0.54

NIGHT HEAD GENESIS GN VOL 01 (MR)

$10.99

RAN

356

261