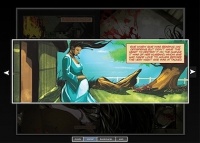 Graphic.ly (formerly Take Comics) announced that it had raised $1.2 million in series A funding this week.
Led by DFJ Mercury, the round also included investment from strategic investor Starz Media, Northstar Equity Investors, GC&H Investors, and several individual investors.
The company plans a private beta period through iFanboy, then will launch on the desktop, with mobile versions to follow. The goal is to allow users to access digital content, a store, and community features on a variety of platforms. Eventually it hopes to expand beyond comics to other forms of publishing.
The company got a shout-out from Microsoft CEO Steve Ballmer during his keynote address at CES, when he showed the Web version of the application.