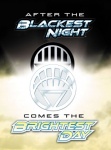 DC Comics has announced The Brightest Day, the follow-up to its highly successful crossover event, The Darkest Night. The Brightest Day, which will debut in April, will include a 26-issue bi-weekly flagship series written by Geoff Johns and Peter Tomasi with art by Fernando Passerin. David Finch, who recently signed on exclusively with DC, will provide covers for the The Brightest Day series.
But like The Darkest Night, The Brightest Day will not be limited to one comic title. It is an "event" that will spread its influence across a good portion of the DC Universe. DC has revealed on it's The Source blog that not only will Johns' Flash be included in The Brightest Day event, but that "Titans is another series that will fall directly under Brightest Day, with Eric Wallace and Fabrizio Fiorentino coming on board starting with the Titans: Villains for Hire Special and then the regular series." Wallace and Fiorentino will assemble a new team of Titans that will include Tattooed Man and Cheshire operating under the leadership of Deathstroke the Terminator.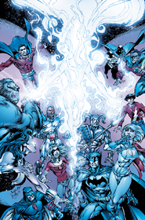 The
Justice League of America
comic will also sport a
Brightest Day
banner starting with issue #44 in April, though DC has not yet announced which heroes will be involved in the
JLA Brightest Day
storyline.
DC will be releasing more information about
The Brightest Day
event throughout the rest of the week.