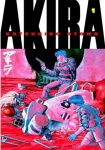 Fresh of the success of The Book of Eli, which has earned over $93 million worldwide so far, Albert and Allen Hughes are set to direct a two-film adaptation of Katushito Otomo's Akira for Warner Bros. and Leonardo DiCaprio's Appian Way Productions. Mark Fergus and Hawk Ostby (Iron Man, Children of Men) penned the adaptation of Akira along with Gary Whitta (The Book of Eli). Instead of Neo-Tokyo, the new version of Akira will be set in "New Manhattan."
According to New York Magazine's Vulture blog, which broke the story, the Akira saga will be split into two parts on the big screen with the first film, which Warners hopes to be able to release next year, covering the first three books in the 2,182-page manga saga. The Hughes brothers, who directed an adaptation of Alan Moore and Eddie Campbell's From Hell in 2001, have had experience in putting dark, edgy graphic novel material on the big screen.
Otomo's Akira saga was first published here in the U.S. by Marvel starting in the late 1980s. Dark Horse published the entire saga during the early years of this Century, while fledgling Kodansha Comics published the first of the six volumes in the series last October, and will likely complete the series as the movie project moves along. Bandai Entertainment has released a spectacular Blu-ray edition of Otomo's anime adaptation of his manga series.