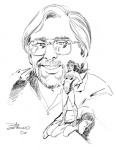 DC Comics sent ICv2 this tribute to former DC Executive Editor (and long-time artist) Dick Giordano (see "R.I.P. Dick Giordano") from the company's top executives:

CEO Diane Nelson and Co-Publishers Jim Lee and Dan DiDio.

"Dick Giordano has left a lasting legacy as a comic book artist and as a DC Comics executive," said Diane Nelson, President, DC Entertainment. "I join the industry in recognizing his tremendous contribution to DC Comics and send my sympathy to his family and friends."

"When I was just trying to break into comics back in 1986, I received a lot of form rejection letters, including a very gracious one from Dick at DC Comics. On the DC letterhead, he took the time to pen an additional personal note which I still cherish today. "Looking good--keep working at it." Those few words kept this often dejected young artist hanging in there as it took many many more submissions before I finally broke into comics," said Jim Lee, Co-Publisher, DC Comics

"Thank you, Dick, for your words of encouragement, all the years of amazing art and editorial leadership at DC. And finally, for showing us artists how a great inker gets it done."

"Dick Giordano was an inspiration for me when I first joined DC Comics," said Dan DiDio, Co-Publisher, DC Comics. "He was an innovator and an industry leader as both a creator and a creative executive. He was truly one of the greats in the business."