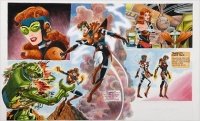 According to an article in today's New York Times, TV producers Sid and Marty Kroft (Land of the Lost) have joined forces with Joe Ruby and Ken Spears in an attempt to revive characters and concepts created by Jack "King" Kirby for Ruby-Spears animation in the 1980s "in as many forms as possible." Kirby began working for Ruby-Spears in 1980 when he designed characters and backgrounds for the company's Saturday morning cartoon series Thundarr the Barbarian.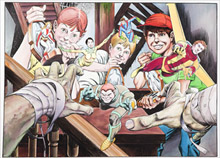 Kirby continued to work for Ruby-Spears for more than a decade during which he created more than 600 presentation boards featuring concept art for new TV series or toy lines that were never produced.
The panels with their squat, squarejawed, muscular figures animated by Kirby's weighty, heavily-inked lines are dynamic compositions filled with foreshortened fists and a powerful sense of motion that make them instantly recognizable to comic book fans.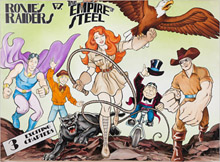 The question is whether or not in today's highly competitive environment there's a place for Kirby's creations.
It is certainly very difficult to establish a new comic book franchise these days, but there may be other opportunities in animation or even in the creation of boutique toys for collectors.
There is a magical sort of "time machine" effect upon seeing the slide show of Kirby creations available on the
Times Website
, which includes concepts such as a female Indiana Jones adventurer (
Roxie's Raiders
), a flame-haired superheroine (
The Tempest
), an ancient Mayan hero (
Golden Shield
), the magically-inclined
Warriors of Illusion
, a group of mini-superheroes, or
The Gargoids
, scientists who acquire superpowers from an alien virus.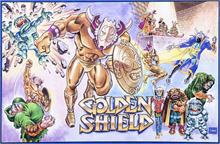 One thing that appears clear, at least according to the
Times
, is that the work Kirby produced for Ruby-Spears was done on a work-for-hire-basis.
Marc Toberoff, the lawyer representing the Kirby family in its suit against Marvel (see "
Kirby Heirs Sue Marvel
") has reviewed Kirby's agreement with Ruby-Spears and told the
Times
that work produced under it would be considered work-for-hire, which gives Ruby-Spears and their new partners the right to explore the possibilities of exploiting Kirby's concept across a broad range of media.