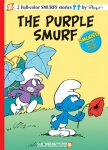 Papercutz will begin releasing the Smurfs graphic novels in September. First up will be The Purple Smurf, a story that has never been released in English, and The Smurfs and the Magic Flute, the first comics story in which the characters appeared. Following in December will be The Smurf King. All are written by Yvan Delporte, with art by Peyo.
All will be released in both hardback and softcover, 6-1/2" x 9", volumes ($5.99 and $10.99 respectively). Most volumes will have 56 pages; The Smurfs and the Magic Flute will be 64 pages to accommodate the greater length of the first story.
A live-action CGI hybrid feature is currently in production starring Neal Patrick Harris (see "NPH in Smurfs Movie") and Sofia Vergara (see "Vergara in Smurfs") in live action roles, with Jonathan Winters, George Lopez, and Katy Perry in the voice cast. The film is slated for release in July 2011.
The TV series ran for nine years on NBC and is running now on Boomerang.