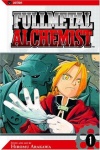 Square Enix plans to launch an e-manga service in North America and France this winter. The publisher will utilize its Square Enix Members Website, which currently dispenses wallpapers, e-cards, and gaming-related items, as an online manga store.
According to the animeanime.jp Website (via Anime News Network), Square Enix has created an iPad/iPhone version of its Gangan online manga service, but has not decided whether it will release manga to these portable devices in the U.S., though it did show off an English version of the service last November.
Although known here primarily for its video games like Final Fantasy and Kingdom Hearts, Square Enix publishes a number of high profile manga series including Full Metal Alchemist (published here by Viz Media) and Soul Eater (published here by Yen Press). There is no word yet on which Square Enix titles will be available as e-manga via the Square Enix Members site.