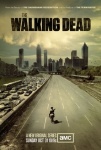 Ratings for the Sunday night finale of The Walking Dead were the highest of the six-episode series, topping the ratings for the fifth episode, which were also a record (see "Walking Dead Ratings Grow"). Over 6 million viewers watched the first showing of the final episode, according to Variety, topping the 5.5 million that watched the fifth episode.
The show also has great ratings in the coveted 18-49 demo, setting a record for average ratings in that demo for any show in basic cable history, according to the report.
The Walking Dead is also currently tops among pirated TV shows, according to Hollywood Reporter.
But now, the long gap begins before the second season, which is not expected to air until next October.