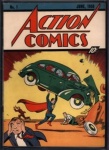 A rare high quality copy of Action Comics #1, believed to be the same comic stolen from actor Nicholas Cage in 2000, was recovered from a storage locker in the San Fernando Valley. The book had been missing for over ten years until it turned up among the contents of a storage locker that had been auctioned off for unpaid rent through Riverside California-based American Auctioneers.

Needless to say the rare find, which features the first appearance of Superman and could easily be worth as much as a million dollars depending on condition, will be chronicled in an upcoming segment on the reality TV series Storage Wars on the A&E cable network.
Will Nicholas Cage, who was once set to star a
Superman
movie project that never got made, get his comic back? LAPD Detective Donald Hrycyk, who works the Art Theft Detail, told the
Ventura County Star
that since Cage has likely received an insurance payout for the book, "whether he will regain legal title or not, is between Cage and the insurance company." The New York comic book dealer who sold the book to Cage has examined photographs of the recovered comic and believes that it is the book that Cage purchased from him.
Los Angeles police, who are attempting to trace the identity of the thief, were upset that press reports of the discovery have leaked out.