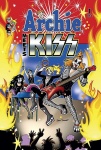 Comic-Con News--The legendary rock band KISS, which has a long and varied history in the comics medium, is returning to the four-color realm first in a four-issue guest appearance in Riverdale that starts in November in Archie Comics #627, and then in 2012 in a new ongoing KISS comic from IDW.
In the four-part "Archie Meets Kiss" story arc written by Alex Segura, one of Sabrina's spells goes awry unleashing a gaggle of monsters on Riverdale. The Archie gang and KISS join forces to save the day in a hard-rocking, tongue-wiggling adventure illustrated by Dan Parent.
No details are available yet about the ongoing KISS series from IDW, but IDW's Chief Creative Officer Chris Ryall is promising big promotional plans that will reach out to all age levels of the band's loyal army of followers.