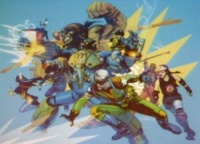 Comic-Con News—At the Image Panel focusing on creator-owned comics, several new comic initiatives were announced in addition to
Brian K. Vaughan's Saga
. Robert Kirkman, who chaired the panel, actually announced his new project
Album
first. A new 60-page issue of
Album
, which will be drawn by Charlie Adlard, will be released every 18 months. Each issue will have a different theme and will be published simultaneously in French in France by Delcourt and in English in the U.S. by Image.
Among the other books announced at the panel were two titles from Jonathan Hickman, who is perhaps best known for killing off the Human Torch and creating the incarnation of the Fantastic Four that is known simply as FF. Hickman and Nicky Pitarra are creating The Manhattan Projects, a quasi-historical "Thunderbolts of Science" project with real life historical characters such as J. Robert Oppenheimer and Albert Einstein.
Hickman is also doing another series for Image. Secret is a saga of corporate espionage with art by Ryan Godenheim. No set length for either of Hickman's project has been established, though each will be considerably longer than just a six-issue miniseries.
Jonathan Ross also has placed two new creator-owned series with Image.
Golden Age
is a previously revealed saga of geriatric superheroes who just can't stop battling evil even after they have been banished to the retirement home. Matthew Vaughn is planning to make a movie based on the first six-issue arc of the saga, which is being illustrated by Tommy Lee Edwards (see "
Golden Age: The Movie
"). Ross' other project is
Home Life,
a reverse Superman saga about a human baby who has been sent to another planet.
Likewise Frank Cho has two new projects lined up at Image. Guns and Dinos is the saga of a group of scientist trapped in the prehistoric past. They figure out a way to get back, but it will take 11 months and as the days tick away they run out of ammo and have to start creating their own weapons. Cho's other project is Brutal, the story of a female assassin who will kill anyone for $500 million.