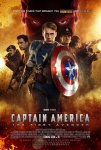 Joe Johnston's Captain America: The First Avenger has been performing quite well overseas. So far it has opened in 41 markets and earned $115 million, which is 43.5% of its worldwide total of $265.2 million. This is a strong performance considering that the film is yet to open in some of the bigger overseas markets and its foreign debut was kept at least a week behind its domestic rollout.
It now appears that the film, which was once thought to be at a disadvantage in foreign markets because of its title's nationalistic overtones (see "
Cap's Name Change Limited to 3 Countries
"), should end up with over $200 million in overseas earnings. While it is unlikely that
Captain America
will be able to match
Thor's
foreign grosses, which amounted to $267.2 million,
X-Men First Class'
total of $204.4 million is definitely within reach.
Captain America: The First Avenger should eclipse X-Men: First Class' domestic total of $145.5 in short order and will likely end up as the second highest grossing superhero film of the summer finishing behind only Thor's $448 million total.