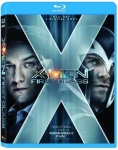 Matthew Vaughn's X-Men: First Class gets the fall DVD season off to a flying start this weekend. The last four months of the year typically see the DVD release of most of the high profile commercial movies of the year just as the serious adult dramas with Oscar ambitions make their way into the theaters. Fall also sees the DVD releases for a number of high profile continuing TV series that are timed to more or less coincide with start of new episodes in the fall TV season. So as the kids go back to school and business slows down at the Cineplex the pace of key DVD releases picks up.
Theatrical Movies
The top release this week is clearly X-Men: First Class (Fox, "PG-13," $29.98, BD $39.99). Matthew Vaughn's film, which earned an exemplary 87% positive rating on review aggregator Rotten Tomatoes, was the best-reviewed superhero film of the summer. Audience enjoyed it as well. It was the #3 superhero film of the summer in the U.S. with $146 million, but it did even better overseas and has earned $352.3 million worldwide, which moves it up to #2 for the summer behind only Thor ($448 million). Vaughn's origin saga cleverly demonstrates the split in the mutant world between Professor X and Magneto by taking us back the 1960s and showing how their relationship sundered against the real Cold War historical backdrop of the Cuban missile crisis. Using all the visual verve of an early James Bond film and getting the most out of a superb cast, Vaughn manage to create the most intriguing X-Men movie yet, and one of the relatively few superhero films that has half a chance to withstand the pressures of time and remain interesting to future generations. X-Men: First Class is a superhero film that has the potential to please both comic book fans and those wouldn't be caught dead reading a book about characters flying around in tights. It didn't reach its full potential at the U.S. box office, so don't be surprised if it overachieves a bit on DVD.
Also due this week is the "philosophical" action film Hanna (Universal, "PG-13," $29.98, BD $34.98). Directed by Joe Wright, Hanna stars Saoirise Ronan, Eric Bana, and Cate Blanchett. Bana plays an ex-CIA agent who raises his daughter as a sort of super-assassin. Visually arresting, if occasionally narratively challenged (especially during its final act), Hanna still managed to earn a 71% positive rating on Rotten Tomatoes.
Everything Must Go (Roadside Attractions, "R," $27.98, $39.99), which is based on a short story by Raymond Carver, earned an even better 76% positive mark on Rotten Tomatoes. Will Ferrell gives a very subdued performance in this serious film written and directed by Dan Rush. Another cinematic meditation on the dark side of the American dream with elements of Death of a Salesman, The Lost Weekend, and American Beauty, Everything Must Go is a real change of pace for Ferrell—and his fans should realize this is not Talladega Nights.
TV on DVD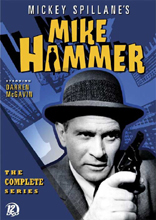 The top American release this week is
Fringe: The Complete Third Season
(Warner Bros. 1012 min., $59.98, BD $69.97). The unorthodox science fiction thriller created by J.J. Abrams, Alex Kurtzman, and Roberto Orci has gotten rough treatment from Fox, who shifted
Fringe
to the Friday night ghetto during its third season. But this complex saga of the FBI's "Fringe Division" team has developed a strong cult following. During Season 3, the Fringe team manages to escape from a parallel universe, which should provide an inkling of the sort of "out there" comic book/science fiction plotting that characterizes the series, which has never managed to reach the mainstream popularity of the similarly baffling
Lost,
which was also created by Abrams.
The other major American release this week is The Office: Season Seven (Universal, 500 min., $49.98, BD $59.98), which, although uneven, provided some of the American series' best episodes. This is the final season for Steve Carell and it features a number of excellent guest appearances and cameos from Amy Ryan, Ricky Gervais (who created the original English version of the series), Jim Carrey, Ray Romano, James Spader, Will Arnett, and Catherine Tate.
Another NBC series that uses the single camera, "mockumentary" style made popular by The Office is Parks and Recreation. Parks and Recreation: Season 3 (Universal, $39.98) features Amy Poehler and Rashida Jones in a show that was perhaps too much like a clone of The Office in its first season, but which has definitely forged its own identity and come into its own in Seasons Two and Three. In spite of its quality, Parks and Recreation continues to struggle in the ratings, though it has developed a devoted following.
Also of interest is the "one-and-done" ABC series No Ordinary Family (Lionsgate, 880 min., $29.98), a "superhero-themed" series about a family whose members develop special powers after their plane crashes in the Amazon. This ill-fated series was written by Greg Berlanti, who wrote the screenplay for Warner Bros.' Green Lantern movie.
Anyone interested in classic TV detective series will be interested in
Mike Hammer: The Complete Series
(A&E, 1800 min., $89.95), a mammoth 12-disc set that includes all 78 episodes of the
syndicated Mickey Spillane's Mike Hammer
series that was produced from 1957 through 1959. This first TV version of Mike Hammer featured Darren McGavin, who later found cult TV fame as the world-weary investigator Carl Kolchak in
The Night Stalker
. With solid second unit work shot in New York City and notable for its violence, which was extreme for TV in the 1950s, this early
Mike Hammer
series featured occasionally uneven acting, which is especially notable in some of the secondary roles, but despite its minor flaws--at least this hard-hitting show is never boring. While a few scenes show signs of deterioration, the overall visual quality of the black-and-white series is quite good, and McGavin's first person narration captures the hardboiled Mickey Spillane spirit with ease.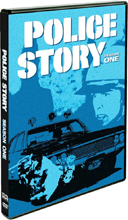 Another classic TV crime show is due out this week.
Police Story: Season One
(Shout Factory, 1170 min., $39.97) includes the first 21 episodes of the show that became the model for the numerous police procedurals that have followed it on to the airwaves. Based on the works of ex-LA policeman Joseph Wambaugh,
Police Story
brought a new realism to TV cop shows and featured multidimensional portraits of the various men in blue who rotated through as the ever-changing protagonists of the series.
Other continuing series out this week include Criminal Minds: The Sixth Season (Paramount, 900 min., $64.99), the always interesting legal drama The Good Wife: Season 2 (Paramount, $64.99), and Charlie Sheen's sitcom swansong, Two and a Half Men: Season 8 (Warner Bros., $44.98).
Animated TV series include the cat and mouse classic Herman and Catnip: The Complete Series (Vivendi, 60 min., $7.93), the 1980s series The Drak Pack: The Complete Series (First Look, 360 min., $7.98), Scooby Doo & the Pirates (Warner Bros., 84 min., $5.98), and What's New Scooby Doo: Scooby Doo & the Ghosts (Warner Bros. 63 min., $5.98).
Then there are the live-action vintage kids' shows, Sigmund and the Sea Monster: Season 1 (Universal, 374 min., $29.93), the 1970s Sid and Marty Kroft extravaganza, and The Secret of Isis (Classic Media, $7.93), the first American live-action TV series whose lead character was a female superhero.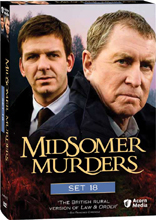 There is just one release from the U.K. this week, but it's all killer, no filler.
Midsommer Murders Box Set 18
(Acorn Media, 300 min., $39.99) features three superb feature-length English village murder mysteries,
Small Mercies, The Creeper
, and
The Great and the Good
, all of which are set in the fascinating fictional county of Midsommer. John Nettles stars as the steady and quietly astute Detective Chief Inspector Tom Barnaby, and Jason Hughes plays his eager and efficient protégé, Detective Sergeant Ben Jones. But it's the ever-changing supporting cast of absolutely brilliant actors as much as the superbly picturesque locations or the devilishly clever scripts that makes this series so entertaining. It is nigh unto impossible to find one false note among the many performances in this superbly produced crime drama, which is simply one of the very best shows ever produced in the U.K. (and that is very high praise).
Anime
The only new release in a week dominated by repriced previously released sets is Bleach Box Set 10 (Viz Media, "13+," 300 min. $49.95), which includes episodes 157 to 167 of the popular supernatural action series based on Tite Kubo's manga series.
The top re-priced set is the vampire saga Black Blood Brothers: The Complete Series (Funimation, "17+," 300 min., $19.98, BD $24.98), which contains all 12 episodes of the stylish anime. At this price the Blu-ray is quite a bargain. Another great deal is Burst Angel: The Complete Series (Funimation, "14+," 750 min., $39.98, BD $44.98), which includes all 24 episodes of the series plus the OVA Burst Angel: Infinity.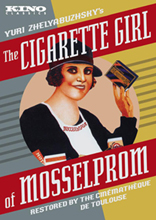 A very unconventional, but totally fascinating series once you get in to it, is
Emma
(Right Stuf, "13+," 625 min., $69.99), which is based on the manga by Kaoru Mori that is set in Victorian England. This latest release is basically a bundle of the two previously released 12-episode sets—and it includes all sorts of great extras and special features including a 96-page
Victorian Gazette
written in the style of an actual Victorian newspaper.
Also out this week is Peacemaker: The Complete Series (Funimation, "13+," 600 min., $49.98), a classic samurai series, and To Love Ru Complete Collection (Sentai Filmworks, "14+," 650 min., $69.98), which includes both of the previously released To Love Ru Collections, which were issued at $40 each.
Classics on Blu-ray
The big release this week is
Scarface Limited Edition Steelbook
(Universal, "R," $34.98), which includes a sparkling new hi-def transfer of Brian DePalma's hugely influential 1983 gangster film that features one of Al Pacino's signature performances. Extras include 10 collectible art cards and a bonus disc containing Howard Hawks' original 1932
Scarface
that starred Paul Muni and in many ways is the superior film in spite of the technical limitations of the early sound era (and a body count that is much lower than the remake).
Classics on DVD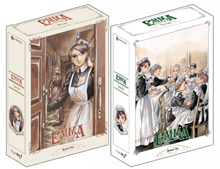 The Cigarette Girl of Mosselprom
(Kino, $29.95) is a rare surviving Soviet silent era comedy from 1924. Director Yuri Zhelyabuzhsky's film, which was shot on the streets of Moscow, is fascinating just for its portrait of the Russian capitol in the early days of the U.S.S.R., though the film offers other pleasures as well. Even though the movie's villain is a visiting American capitalist with a bankroll as big as his girth who entices the eponymous heroine to become his mistress after her fling at acting proves disastrous, this film was widely denounced by Soviet critics, one of who declared, "The only thing Soviet about this film in the citizenship of its actors." The movie was released during the year that Lenin died and its approach does reflect the greater freedom to experiment that filmmakers had in the early years of the Soviet republic. The behind-the-scenes look at moviemaking elements of the story are among its most interesting aspects, especially the way that it makes fun of the studio's top film director' feeble attempts to "orchestrate" the action with his conductor's baton.
The Cigarette Girl of Mosselprom
, while hardly as groundbreaking as other silent Soviet films like Bed and Sofa (1927), does reflect the influence of Hollywood with a bit a slapstick and loads of character comedy from Igor Ilyinsky, who plays a lovelorn account (love the abacus) and generally mugs his way through the film with comedy stylings that wouldn't have been out of place in a Mack Sennett movie from the teens. Though far from a polished product that could compare with the best American and European comedy films from the mid-20s,
The Cigarette Girl of Mosselprom
is a "must have" for silent film collectors and those interested in the early days of Soviet Union, especially since the movie has been superbly restored by the Cinimatheque of Toulouse.