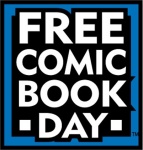 At its Retailer Summit held in conjunction with C2E2, Diamond Comic Distributors announced that retailers had ordered a record 3.5 million free comics for the Free Comic Book Day Event, which will be held on May 5th. This mammoth total represents a 23% increase over the 2.7 million free books that retailers ordered in 2011.
Diamond also officially announced its long-rumored Halloween industry-wide event (see "
A Second Free Comic Book Day
") will debut this year. While this event should not be considered just a replay of Free Comic Book Day, publishers are creating Halloween-focused comics, and the July edition of Diamond's
Previews
will include solicitations for low-cost Halloween comics, both the sort of mini-Halloween comics that have been offered in previous years and standard format comics. Diamond is creating in-store promotional kits for the event as well as a new Website dedicated to the project.
Halloween is one of the fastest growing and most commercially-active holidays on the calendar, and the purpose of Diamond's Halloween event is create and reinforce the notion that comic shops are great destinations for consumers during the Halloween season.