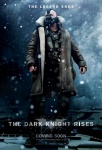 Christopher Nolan's final Batman film The Dark Knight Rises scored a third easy victory at the weekend box office as it dropped just 41.3% and earned an estimated $36.4 million to bring its domestic total to $354.6 million. But TDKR received little help from other newcomers as Sony's science fiction remake Total Recall opened with a soft $26 million and Diary of a Wimpy Kid: Dog Days posted the lowest debut yet in the series based on Jeff Kinney's series of quasi graphic novels. Overall the total of the top 12 films was down 28% from the same weekend last year when Rise of the Planet of Apes opened with $54.8 million.
The Dark Knight Rises is doing extremely well, though its $354.6 million domestic cumulative lags well behind 2008's The Dark Knight, which had earned $393 million at the same point. The shootings in Aurora, Colorado and competition from the Olympics are having an effect on TDKR and the movie box office in general. The Dark Knight Rises could still move closer to The Dark Knight's totals in subsequent weeks as the memory of the Colorado shootings fade and the Olympics wind down. A recent poll by the research group NRG found that 20% of the moviegoers surveyed were still nervous about heading to the local Cineplex.
Weekend Box Office (Studio Estimates): August 3-5, 2012

Film

Weekend Gross

Screens

Avg./

Screen

Total Gross

Wk#

1

The Dark Knight Rises

$36,440,000

4,242

$8,590

$354,638,000

3

2

Total Recall

$26,000,000

3,601

$7,220

$26,000,000

1

3

Diary of a Wimpy Kid: Dog Days

$14,700,000

3,391

$4,335

$14,700,000

1

4

Ice Age: Continental Drift

$8,400,000

3,542

$2,372

$131,863,000

4

5

The Watch

$6,350,000

3,168

$2,004

$25,363,000

2

6

Ted

$5,479,000

2,767

$1,980

$203,414,000

6

7

Step Up Revolution

$5,300,000

2,606

$2,034

$23,097,000

2

8

The Amazing Spider-Man

$4,300,000

2,425

$1,773

$250,640,000

5

9

Brave

$2,890,000

2,110

$1,370

$223,324,000

7

10

Magic Mike

$1,380,000

1,202

$1,148

$110,894,000

6
The good news is that
TDKR
is demonstrating the same sort of "legs" as
The Dark Knight
, especially in the IMAX format where the movie has earned an outstanding $43 million so far in its 17-day run. The even better news is the way in which the movie is doing outside North America. Although the full extent of its overseas performance won't be known until after the Olympics are over, it appears right now like
The Dark Knight Rises
will be able to overcome its domestic shortfall (vis a vis
The Dark Knight
) with a stronger international performance.
Sony's Total Recall, which stars Colin Farrell, Jessica Biel, and Kate Beckinsale, did open slightly better than the 1990 Paul Verhoeven original, which debuted with $25.5 million, but with 22 years of ticket price inflation it is clear that the remake attracted a far smaller audience. Sony claims that the film cost just $125 million to produce, and the studio is confident that it will make enough worldwide to be profitable. Prometheus, this summer's other big budget science fiction film, managed to earn $302.9 million versus a cost of $130 million, which means that, though it hasn't been a big moneymaker for Fox, it finished in the black. Total Recall could well follow suit, though the film was not a hit with either the critics, who gave it a lowly 31% positive rating on Rotten Tomatoes, or with opening weekend audiences who gave it a mediocre "C+" CinemaScore. Males made up 58% of the debut weekend audience, which was old even for an "R" rated film with 53% of ticket buyers over 30 years of age.
This week's other newcomer, Diary of a Wimpy Kid: Dog Days, which is the first film in this franchise to open in the summer, debuted with $14.7 million, well below the $22 million+ average of the first two Wimpy Kid movies. Of course opening during the summer means that kids will be able to attend during the week, which could explain why the weekend tally was low. P lus with a cost of just $22 million and a solid "A-" CinemaScore from moviegoers, Dog Days should still end up as a money winner for Fox. Still this is a film to watch to see if it can eventually finish with a total near those of its predecessors, or if perhaps the series has been outgrown by its audience (though the continuing popularity of Kinney's books makes this somewhat unlikely). Opening weekend audiences for Dog Days were 58% female and 62% under 25.
Fox will be making a lot more on Ice Age: Continental Drift in spite of the fact that the film is sure to end up with the lowest domestic cumulative of any film in the series. Now in its fourth weekend Continental Drift has earned $131.8 million domestically and doesn't have a prayer of catching Pixar's Brave, which has earned $223.3 million here in North America, though Continental Drift's worldwide total of $662.2 million is going to be very tough for Brave or any other animated feature film to top.
Fox won't be making anything on its star-crossed "R-rated" comedy The Watch, which debuted last weekend and slipped over 50% to $6.3 million, showings that give it little chance to make back its entire $68 million cost. In contrast Seth McFarlane's "R-rated" Ted from Universal slipped just 25% in its sixth week in theaters and earned almost as much this weekend as The Watch. Ted has now pushed its domestic cumulative north of $200 million, making it the official "R-rated" comedy hit of the summer.
Marc Webb's reboot of The Amazing Spider-Man continues to perform well in its fifth weekend in theaters as it dropped just 35.8% and brought its domestic cumulative to $250.6 million. With a worldwide total of $677.8 million, the Spidey reboot, while still well behind the totals of the original Spider-Man trilogy, is already a solid moneymaker for Sony.
Check back next week to find out whether or not The Bourne Legacy, which stars Jeremy Renner (Hawkeye from The Avengers) in a reboot of the Robert Ludlum-inspired franchise, will be able to unseat The Dark Knight Rises.