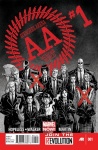 Writer Dennis Hopeless (
X-Men: Season One
) and artist Kev Walker (
Thunderbolts
) will team on Marvel NOW! title
Avengers Arena
#1 in December 2012. Artist Dave Johnson provides the cover for the premier issue.
Avengers Arena
will be the fifth title in the publisher's new Avengers line, and part of the second wave of Marvel NOW! books (see "
'Thunderbolts' #1 Set for December
").
Avengers Arena
centers around sixteen younger superheroes pulled from the Runaways, the Avengers Academy, and Darkhawk, thrown together on a deserted island known as Murder World, and forced into life or death combat with only one survivor. Axel Alonso, Marvel's Editor-in-Chief, has noted that Hopeless and Walker will also create and introduce some new characters into the Marvel Universe such as Deathlocket and the Braddock Academy.
Augmented Reality content will be available for each issue of
Avengers Arena
in the Marvel AR App for Android and Apple iOS, which includes special features, recaps, and additional extras about the series for readers at no additional cost.
--
Nathan Wilson