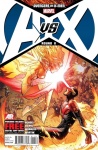 Comic sales in comic stores were down 4.4% in September 2012 vs. the year ago period, when the New 52 #1s were rocking the market, according to information released by Diamond Comic Distributors. While the DC #0s in September 2012 were successful enough to take nine out of the top ten slots on the top comic chart for the month and drive DC to a 5% market share win, they were not enough to beat the #1s last September.
DC's market share win was substantial, 36.4% vs. 31% for Marvel in dollars, and 41% vs. 33.7% for Marvel in pieces. Marvel did take the #1 comic slot with Avengers vs. X-Men #11.
Graphic novels were up a healthy 14.4% in September over September 2011. Marvel also had the #1 graphic novel with the $7.99 Thanos Quest #1 (this reprint is not really a graphic novel but bound in the traditional comic book format). DC had four titles in the top ten, starting with The Judas Coin HC at $22.99.
The total of comics and graphic novels was up only 1% vs. September 2011.
Year to date sales comparisons to 2011 remain robust, with comic sales in comic stores up 17.1%, graphic novels up 14.2%, and the total of comics and graphic novels up 16.2%.
Quarterly numbers were also released. Q3 sales were up a less robust 8.3% for comics, 7.8% for graphic novels, and 8.1% over-all, primarily because of the September numbers and the tougher comps for Q3 2011.
The fact that year over year numbers remain positive despite the extraordinary month the market had a year ago in September 2011 is certainly a positive sign. The big question going forward will be how Marvel NOW! titles are received.
Avengers vs. X-Men
is ending in October, and the rest of Marvel's line appears to be in a slump in the run-up to the new titles. If Marvel NOW! has a strong reception, the market can continue to grow. Without a strong reception, it's going to be tough regardless of how well DC does.
For an overview and analysis of comic sales in September, see "
'Zero' Issues Spark Market in September
."
For our estimates of actual sales by Diamond U.S. from comic specialty stores on graphic novels shipped during August, see "
Top 300 Graphic Novels Actual--August 2012
."
For an overview and analysis of the best-selling comics and graphic novels in August, see
"
'Avengers Vs. X-Men' Finishing Strong
." For an analysis of the dollar trends in August, see "
Bull Market in Comics Continues in August
."
For our index to our reports on the top comic and graphic novel preorders for January 2000 through September 2012, see "
ICv2's Top 300 Comics and Top 300 GNs Index
."